MADISON, WIS. — Jayhawk fans gave a blue hue Saturday to the city's prime people-watching business corridor known as State Street.
Just imagine Massachusetts Street in Lawrence except twice the length it runs from the Wisconsin State Capitol building to the University of Wisconsin's campus and three times the number of street musicians, hippies and punks.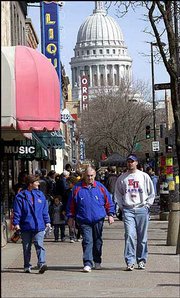 Hank Booth and his wife, Sue, of Lawrence spent the off-day between KU games in the NCAA Tournament exploring bars, cafes and shops on State.
Their trip into Sunshine Daydream was sort of a flashback to the 1960s.
"I had to leave when the incense got to me," Hank said. "It's been too many years."
Donna Boos of Hiawatha and Ellis and Nancy Clark of Sunrise Beach, Mo., were drawn into the House of Wisconsin Cheese.
There was all the Wisconsin cheese, curds, maple syrup, Cowpie candies, mustard, honey and foam Cheeseheads a tourist could absorb.
Boos, a provolone cheese fanatic, said she needed a day or so to decompress from the tension of Friday's narrow victory over Illinois at the Kohl Center.
"What better way to do that than shopping?" she said.
Candace Bailey, a junior at Free State High School, said her confidence in the Jayhawks didn't waver during that 73-69 victory over the Illini.
"There was never any doubt," she said.
Candace joined her parents, Herb and Debra Bailey, on a tour of the Capitol, which opened in 1917 and features the only granite dome in the United States.
"It's so beautiful," Debra said. "The last time I was here it was under renovation."
Steve Jung and Mary Tetuan, the stepchildren of KU football great Otto Schnellbacher, went bargain hunting on State Street.
Jung of Lincoln, Neb., and Tetuan of Topeka were disturbed by the $24 price tag on tournament T-shirts at Kohl Center.
"What's more," Jung said, "the Jayhawk on them was so small."
At a store called Name of the Game they found Midwest Regional shirts that struck their fancy at a cost of $15.99.
"You can't have enough KU stuff," Tetuan said.
As fate would have it, the shirts were printed in Lawrence at Midwest Graphics.
Jason Rice, a reporter with Madison's NBC affiliate, interviewed Gary Potts of Lawrence for a story about the Jayhawks.
Potts had the right wardrobe for the part, decked out in a slick Jayhawk jacket. He convinced Rice that KU is for real in the tournament.
"It's one heck of a team," Rice said. "Their backing from fans is just wonderful."
Even the best of shoppers have to take a break, and the six-person group of KU fans found refuge at Pizzeria Uno just off State at West Gorham Street.
Larry and Judy Terry of Independence, Mo., and their daughters, Gayle Terry of Kansas City, Mo., and Elaine Haverty of Olathe all KU graduates hunkered down for thick slabs of pizza.
Elaine's kids, 7-year-old Grace and 4-year-old Jay, are soaking in the kind of basketball memories that last a lifetime.
"I still have a lot of great memories from 1988 ... with Danny Manning and the championship," said Gayle, who earned her KU degree that year.
Copyright 2018 The Lawrence Journal-World. All rights reserved. This material may not be published, broadcast, rewritten or redistributed. We strive to uphold our values for every story published.