St. Louis — Charlie Marshall enjoyed pasta and refreshments at a downtown restaurant, but he was at the KU Endowment Association gathering for another reason.
"We're glad every once in a while KU can come here in a group," said Marshall, a St. Louis attorney and 1971 business graduate of KU. "We get invited to events in Lawrence and Kansas City, but we often can't go."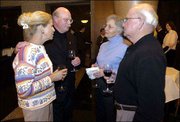 Marshall and his wife, Patty, mingled with dozens of KU alumni and friends at Tony's Restaurant on the eve of today's NCAA Tournament game between Kansas and Stanford.
KU Chancellor Robert Hemenway and Athletics Director Al Bohl were part of the throng.
Both were there to personally thank alumni and friends who give their time, energy and money to help KU prosper.
"We hold these events to thank people for private support they give the university," Hemenway said. "We talk to people about what we have to accomplish with their gifts."
KUEA is in the middle of a $500 million fund drive to raise money for scholarships, research, campus buildings and other needs.
About 10 percent of that total is to be generated by the athletic department, Bohl said.
He said the monumental success of Jayhawk basketball and other sports is a major factor in stimulating interest in the university. Winning in the NCAA Tournament draws people closer to KU, which can help them connect with the university.
"It's just not about athletics," Bohl said, "it's about the entire university. Success makes people feel good, it helps keep them a part of the university."
Copyright 2018 The Lawrence Journal-World. All rights reserved. This material may not be published, broadcast, rewritten or redistributed. We strive to uphold our values for every story published.