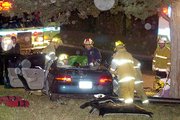 Two Kansas University students were injured early Friday when a car they were riding in slammed into a utility pole and a tree on the KU campus.
The accident occurred about 2 a.m. on Mississippi Street down the hill north from Jayhawk Boulevard, according to the Kansas University Public Safety Department.
The car, a 1995 Nissan Altima, was southbound on Mississippi when it missed a curve, KU Lt. Schuyler Bailey said.
Lawrence-Douglas County Fire & Medical personnel worked about 30 minutes to extricate the two male passengers, one in the front seat and one in the back.
One passenger was taken by Life Flight helicopter to Kansas University Medical Center, Kansas City, Kan. The second passenger was taken by ambulance to Lawrence Memorial Hospital. Their identities and conditions were not released yet this morning pending notification of relatives.
The car's driver, a 21-year-old male KU student, was taken to the Douglas County Jail for a blood alcohol content test, Bailey said. The results of that test haven't been released. The driver was not arrested and was released after the test. Charges are pending. The charges that might be filed could hinge on the seriousness of the passengers' injuries Bailey said.
Copyright 2018 The Lawrence Journal-World. All rights reserved. This material may not be published, broadcast, rewritten or redistributed. We strive to uphold our values for every story published.