St. Louis — Larry, Terry and Julie are Kansas basketball fans in more than name only.
Yes, all have shared the identical last name of "Hawk" no kidding. And each of these loyal Jayhawks expect KU to throttle Holy Cross today in the NCAA Tournament and move on to challenge for the championship April 1 no fooling.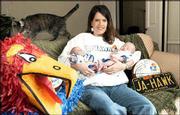 "My nickname was Jayhawk long before I enrolled at KU," said Julie Ann Hawk Goeser of Overland Park.
Even after marrying Kurt Goeser, Julie Ann refused to shed her maiden name. She gave in when it came to the personalized license plate on her car JA HAWK which was replaced after graduating from KU.
"I tell people that she was the only real Jayhawk up there," said her father, Larry Hawk, who is in St. Louis for the tournament.
Julie Ann and Kurt Goeser, couldn't make the trip to St. Louis because they've got their hands full with a couple of Baby Jays: twin girls Madison and Morgan, born in January.
Terry Hawk, who follows Jayhawk basketball like a bird of prey in Manhattan despite the distraction of Kansas State University athletics, said his name was always a curiosity to KU students in the early 1980s while living in Lawrence. It also raised eyebrows when he ran the intermediate hurdles in Big Eight Conference track meets.
And it led to difficult choices when Hawk and his wife, Diane, picked out names for their children.
"I wanted to name our first son 'Jay' but my wife wouldn't have it," said Hawk, who works for the U.S. Department of Agriculture.
For the record, the Hawk's would-be Jay is known as Kaleb.
| | | |
| --- | --- | --- |
| | | |
| | Asked of Kansas University Chancellor Robert Hemenway: Who will win today's Kansas and Holy Cross game? Which Jayhawk will lead the team in scoring?"I'm hoping for the best. Let's see. I'll say 92-81, KU. Leading scorer? Kirk Hinrich with 21 points." | |
| | | |
In perhaps the most unlikely of connections, Debbie Hawks, grew up cheering on the Hutchinson Salt Hawks. She went on to become a Jayhawk fanatic while attending college at KU and stayed that way after graduating with an occupational therapy degree in 1982.
But she gave up her last name to join the family of a decorated KU basketball player. She married Patrick Dreiling, brother of former KU center Greg Dreiling. The 7-foot-1 Wichita native played for KU from 1983 to 1986.
Patrick, presumably the point guard in the clan, is 6-1. But the family stands tall as KU basketball supporters, said Debbie Dreiling, who works at a Wichita medical center.
"We watch all the games on TV or listen to them on the radio," she said. "I'd love to be at the tournament, but can't."
Speaking for her fellow Hawks, she said there is no reason to believe this KU team won't fly high in the tournament.
"We got that tournament loss behind us. Now we're set to go."
Copyright 2018 The Lawrence Journal-World. All rights reserved. This material may not be published, broadcast, rewritten or redistributed. We strive to uphold our values for every story published.