Los Angeles — One summer morning, Joseph Nicephore Niepce peered from an upstairs window in his home in the French countryside, framed the view of a pear tree, the sky and several farm buildings and did something remarkable: He took a picture.
Opening the lens of a rudimentary camera for eight hours that day in 1826, Niepce exposed a polished, thinly varnished pewter plate to produce an image that is acknowledged as the world's first photograph.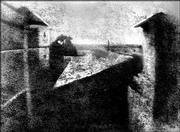 In June, 176 years later, the faint image will arrive at The Getty Conservation Institute, where scientific experts will analyze it for the first time since it was rediscovered and authenticated in 1952. Before it turned up, the photo had been missing for decades, misplaced by its owner after it was last exhibited in 1898.
Exact details of its chemistry remain a mystery, leaving experts with precious little information about the science behind the photo.
"There are legends about how it was done and with what materials, but no one really knows," said Dusan Stulik, a Getty senior scientist who calls the work the "Mona Lisa" of the photo world.
The analysis is part of a joint photo conservation project involving Getty, the Image Permanence Institute at the Rochester Institute of Technology and France's Centre de Recherches sur la Conservation des Documents Graphiques.
The goal is to understand all the chemical processes used since Niepce's day to produce photographs, which conservators say is essential to preserve the art form.
Copyright 2018 The Associated Press. All rights reserved. This material may not be published, broadcast, rewritten or redistributed. We strive to uphold our values for every story published.