St. Louis — Staring straight ahead, a towel draped over his head, Kirk Hinrich pondered different ways of punishing himself after last Sunday's 0-for-10 shooting performance against Oklahoma at Kansas City's Kemper Arena.
Luckily, Hinrich's best buddy came to the rescue, phoning Kansas' junior guard and helping him snap out of his depression just hours after the Jayhawks' 64-55 loss to the Sooners in the Big 12 tournament championship.
"Usually in the past if I had a bad game I'd throw myself in the gym," an upbeat Hinrich said Wednesday. "I talked to my best friend, Slaven Markovic, who plays at Wisconsin-Green Bay. He said he was worried I was going to go lock myself in a gym. He said, 'Just forget about that game. You are a really good shooter.'
"I decided to take his advice."
So Hinrich has forgotten Sunday's four-point outing his first single-digit performance in 20 games entering tonight's NCAA Midwest Regional contest against Holy Cross.
Tipoff is 6:50 p.m. at Edward Jones Dome.
"We've got to come out and play hard from the get-go, flat out get after it on defense," Hinrich said. "We need to try to force the tempo and try to take them out of what they want to do.
"I expect them to play at a deliberate pace," he added of the 16th-seeded Crusaders (18-14), who average 63.2 points a game compared to KU's 92.0 ppg average.
Hinrich said he and his teammates must play with poise tonight, and again if they win in Saturday's 7:05 p.m. battle against the Western Kentucky-Stanford winner.
"It comes down to execution," Hinrich said. "It (the OU game) was the first time this year we panicked. We have to keep our poise and execute the offense."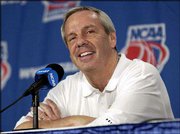 Miffed at KU's lack of composure, KU coach Roy Williams stopped the tape of Sunday's game during a film review session Monday. He asked the Jayhawks what happened after a series of costly turnovers against the deliberate Sooners, who forced KU into a halfcourt game.
"I said, 'You guys tell me in one word what you think happened,' and the kids did it. They said, 'Panic,'" Williams said.
"I said, 'That's right. Why are we doing that now? I mean you've been so successful you've got to stick with what got you here. Yes, running the ball is a the biggest thing, but fellas we can score in a halfcourt offense, we can score in a slow tempo game.'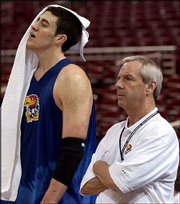 "I think the biggest thing was to point out to them how our lack of execution caused the problems, not anything else. And if you know, if you pay attention to detail and do what you're supposed to do, you'll get better shots."
Williams isn't worried about Hinrich bouncing back or any of his Jayhawks bouncing back tonight. He thinks that will happen.
"These kids are tough. They have put the loss to Oklahoma behind them," Williams said.
The top-seeded Jayhawks (29-3) are tough enough to battle through injuries, that's for sure. Hinrich twisted his left ankle Saturday in the semis against Texas Tech and played on the ankle Sunday. He said the ankle has given him no problems and he'll be 100 percent tonight.
"I rolled it against Texas Tech and put a little extra tape on it. I've turned my left ankle 100 times," Hinrich said. "There's nothing wrong with me. I'm just really excited about getting out there and playing the game."
Copyright 2018 The Lawrence Journal-World. All rights reserved. This material may not be published, broadcast, rewritten or redistributed. We strive to uphold our values for every story published.