St. Louis — Kansas University junior Drew Gooden is sick and tired of TV announcers butchering his first name.
"I hate it, for real," Gooden said of local and national announcers calling him Dwight Gooden on various telecasts this season.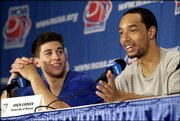 "I don't know why some people can't get it through their minds my name is Drew Gooden, not Dwight Gooden. It's really irritating and annoying. Whoever is doing the commentating or whatever has to go to sleep the night before the game trying to practice Drew Gooden instead of Dwight Gooden and know he's not at a Mets' game."
Dwight Gooden, of course, is a former major league baseball pitcher.
"He's been called Dwight Gooden about half the year," KU coach Roy Williams said, speaking after his junior forward at Wednesday's Midwest Regional press conference at the Edward Jones Dome. "That bothers him, bothers his family, bothers his coach. I think it's something you should be able to change. Do it once, that's fine. Do it over and over, it'd be like me calling you Joe," Williams told a questioner.
Drew Gooden, by the way, iced his left knee in the locker room after Wednesday's light 60-minute practice at the Jones Dome. He has a bout of tendinitis.
"That's all it is. I'm OK," he said.

Sore shoulders: Junior Nick Collison iced his left shoulder after Wednesday's practice at the Edward Jones Dome and after a morning practice at Webster College.
Both of his shoulders have been hurting off and on all season.
"I don't know the medical term, but they are basically kind of loose," Collison said. "I stretch them too far and tweak them. It is something that hurts real bad and goes away after a while."
Collison left the recent Missouri game after 20 seconds because his shoulder briefly popped out of place.
"It hurts bad," he said. "It kills me right away, then after a little rest it goes away. It's happened so many times in games. It will not affect my play. It won't hurt my play even if it's sore. I have full range of motion."

SI cover jinx?: Collison was on a regional Sports Illustrated cover this week. Is he worried about the legendary jinx?
"I don't think so. I don't think it'll hurt us. There's a lot of cover guys. I think it's just a regional cover," said Collison, who has yet to see the issue.
SI has various covers of its NCAA edition, featuring several players in different parts of the country.
"Sports Illustrated jinx there will be none," Gooden said.

Hinrich not miffed: Kirk Hinrich is not upset he was named honorable mention all-America and not to the first, second or third team.
"I didn't even know I was honorable mention. I'm not worried about that," Hinrich said. "I'm worried about the next game."

Good-luck charm: Williams said he hasn't decided if he'll have his players spit in the Mississippi River for good luck as he did in 1993 when the Jayhawks beat Cal and Indiana in St. Louis, advancing to the Final Four in New Orleans.
"Coach talked about it. We might spit," senior Chris Zerbe said. "He told us stories of the past teams spitting in the river. I've never done anything like that. It'd be cool.
"I think if we beat Holy Cross and if we win the next game, we will be determined to win and if we move to the next site, coach might do something."
Added Gooden, "Coach likes to do things to keep the team loose. I don't know if we'll do anything like that."

Collison on Holy Cross: "We know they can play. They have two good big guys. They are a solid team. They are hot right now, they've won 10 of 12."

No place like dome?: Both teams will have to adjust to playing in the cavernous Jones Dome tonight.
"The big thing is to get some shots in, get used to it," Hinrich said. "It's a different background. The lights are 10 times brighter than other buildings we've played in."
Added Williams, "I was never good enough to play in a big place like this. Standing there you do get a different look. The depth perception may be different for both teams.
"The difference is the distance from the court to the locker room. It takes forever to get there," he quipped.

Talking tickets: About 23,000 tickets have been sold for today's games at the 42,000-seat Jones Dome.
"It's the easiest ticket we've had," said KU associate athletic director Richard Konzem, who's been attending NCAA tournaments with KU since 1984. "This is the best seating configuration we've ever had for a first-round site."
Copyright 2018 The Lawrence Journal-World. All rights reserved. This material may not be published, broadcast, rewritten or redistributed. We strive to uphold our values for every story published.