Eudora — The Kansas River won't be scouring away a heavily traveled bridge near Eudora anytime soon. A $2 million erosion-control project is ahead of schedule and under budget.
Crews are dumping the last of 31,000 tons of limestone rocks into the river northwest of town. Workers are building three dikes designed to protect an eroding riverbank from the rushing river and keep the Douglas County Route 1061 bridge from wasting away.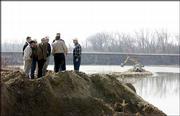 "It's a wise thing to do," said Lamar McKissack, project superintendent for the U.S. Army Corps of Engineers, as he inspected the site Wednesday morning. "The Kansas River, under high flows, is very aggressive and highly erosive. We have to get it now."
McKissack and other project officials observing Wednesday's inspection heard what they wanted to hear from project officials:
l The first phase of construction should be finished this week, at least two weeks ahead of schedule.
l The project's contractor, Big River Construction Co. of Nebraska City, Neb., agreed to build the first two dikes and handle other basic work for $668,153 well below the original estimated cost of $808,380.
l Because of favorable weather conditions and a low river level, crews didn't need to use as much rock as originally thought. They even had enough leftover in the contract to build most of a third dike, with plenty of time to spare.
Keith Browning, Douglas County's director of public works, said he was pleased.
"You tend only to hear about the projects that don't finish on time or finish on budget," he said. "And this one's under on both. Everything just kind of fell into place."
The entire project is expected to be finished later this year, with more of the 50- to 2,000-pound rocks being arranged along the riverbank. Chunks of the bank have been falling into the river since the flood of 1993, officials said, and the riverbend upstream from the bridge has shifted more than a half mile east since 1941.
Such movement has threatened the bridge, which is one of three river crossings in the county. The bridge carries about 2,400 vehicles a day. Replacing it would cost about $25 million.
Knowing that, deciding to move ahead with the erosion-control project was a no-brainer, said Dave Mahoney, Leavenworth County engineer. The project's financing is being divided three ways: U.S. Army Corps of Engineers, $1 million; Douglas County, $600,000; and Leavenworth County, $400,000.
"We need to protect the bridge," Mahoney said. "We had to do it."
Copyright 2018 The Lawrence Journal-World. All rights reserved. This material may not be published, broadcast, rewritten or redistributed. We strive to uphold our values for every story published.