A group of Lawrence businesses is so concerned that state budget woes may slow down Kansas' efforts to establish a high-tech economy that it is sending formal word to the Statehouse that it will support tax increases.
The board of directors of the Lawrence Technology Assn. recently approved an official position statement it is circulating to lawmakers calling for increased taxes to fund the Kansas Technology Enterprise Corporation, the Kansas Board of Regents, and the K-12 education system.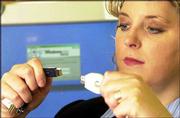 "The thing the technology industry wants to make sure lawmakers and the public are aware of is that these infrastructure pieces we are talking about are so critical," Bennett Griffin, president of the LTA, said. "If we don't fund them properly now, it will impact us for years to come in how we will compete with every other state and every other region that wants to build the next Silicon Valley. And there is plenty of competition."
The LTA board unanimously approved the position statement and will present it to the entire association, which has a membership of about 50 businesses, at its March 28 meeting.
The group did not specifically spell out which taxes should be increased or how much they should be increased.
"We didn't get into the details because we believe that's best left to the Legislature, but we felt we had to show our support to raise revenues because we're tired of hearing legislators say no one is showing any support to increase taxes," Marc Epard, an LTA board member said.
Griffin said the three areas the group is asking lawmakers to adequately fund are extremely important in developing a high-tech industry in the state. He said funding for the regents institutions is essential to provide both the future work force and research needed to fuel high-tech businesses.
Increasing funding for the state's K-12 education system is vital because the quality of the education system is a key factor in the ability of high-tech companies to attract and retain talented employees, Griffin said.
Allowing KTEC to expand its operations is important because the state-sponsored organization is the major place for start-up technology companies to turn to for both financial and technical support in the state, Griffin said.
He also said adequately funding the organization would be a significant step in reversing a troubling trend in the state.
"When it comes to creating a high-tech industry, I think Kansas has had moments of greatness interspersed with periods of absolute mediocrity," Griffin said. "KTEC is a great example of that.
"KTEC is a model across the country and Kansas established it long before other states were even thinking of such things, but we haven't funded it in a way to allow it to reach its potential. In this state, our challenge is not coming up with the vision, it is sticking it out and paying for it."
Griffin said LTA members know convincing legislators to increase taxes will not be easy, but they hope legislators will grab on to the association's message that a tax increase would be an investment in the state's future economy.
"The nice thing about this is that the tech industry has a very proven record of producing high-paying jobs and bringing new money into the state economy," Griffin said.
Hopefully, he said, that will more than offset the downside, which is the tax increase.
Copyright 2018 The Lawrence Journal-World. All rights reserved. This material may not be published, broadcast, rewritten or redistributed. We strive to uphold our values for every story published.