Kansas shouldn't play stork anymore at least not for free, a state lawmaker says.
Under legislation introduced by Rep. Patricia Lightner, adopting a baby would become more expensive and difficult for many Kansans.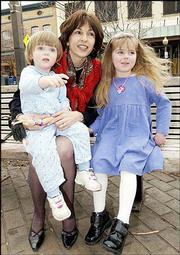 Lightner's plan, endorsed by state welfare officials, would let judges in some instances decide whether adoptive parents should pay the costs of the child's birth and pre-natal care. That could add a few thousand dollars to the cost of each adoption.
Many families hoping to adopt a baby would not object to paying more, predicted Richard Marcias, a Wichita attorney and director of the Adoption Center of Kansas.
But, he said, some would.
"Unfortunately, there are wonderful people out there who can barely afford to adopt as it is," Marcias said. "For them, something like this would push it further out of reach. I don't think any of us want to see that happen."
But Lightner, an Overland Park Republican, said it is time taxpayers stop subsidizing adoptions in cases where the state has picked up the bill for the child's birth.
Last year, taxpayers paid the birthing and prenatal tab for about 14,500 babies born to poor mothers in Kansas.
Of those babies, a few hundred were later adopted.
'Need to pay'
Lightner's proposal would let judges order families wanting to adopt children younger than a year old to reimburse the state if the Department of Social and Rehabilitation Services paid for the baby's birth.
"I'm saying everybody ought to pay something," Lightner said. "If their insurance covers it, fine. If it doesn't or if they're from out of state, that's fine, too, but they still need to pay."
Under Kansas law, an adoptive parent's health insurance is required to cover the costs of the baby's birth, but the law only applies to policyholders whose employers are not self-insured. Adoptive parents from out of state aren't covered by the law, either.
Officials estimate there isn't an exact count that about one-third of the babies adopted in Kansas go to adoptive homes outside the state.
According to SRS, the average state-funded birth costs about $3,900.
"Taxpayers have already paid for these babies," said Lightner, now in her fourth year in the Legislature. "I don't see what's wrong with asking adoptive parents to pay back some of the expenses."
Lightner and her husband, David, have adopted two girls; 4-year-old Isabella, who was born in Minnesota, and 2-year-old Caterina, who was born in Russia.
"She had been abandoned," said Lightner, referring to Caterina.
To pay for Caterina's adoption and their trip to Russia last October, the Lightners gladly borrowed $21,000, Patricia Lightner said.
$20,000 babies
In Kansas, private adoptions cost between $10,000 and $20,000.
Lightner, 44, said she doubted her proposal would discourage families from adopting newborn babies.
"I can't see how it would," she said. "Nationwide, there are 30,000 babies available and a million families waiting to adopt. These babies are in demand."
But if the costs were truly more than a family could bear, she said, the judge could simply waive them.
"It would be discretionary," Lightner said.
SRS has endorsed the bill.
"It could add to our bottom line," said department spokeswoman Stacey Herman.
No one knows how much SRS might recoup because there's no way to know how many judges would order the payments.
The bill is not expected to affect adoptions involving children in SRS custody. Of the 446 foster children adopted between July 2000 and June 2001, only one was younger than a year old.
Bad idea
Joe Kleinsasser said Lightner's bill was a bad idea. He and his wife, Michelle, adopted a baby boy, Ryan, about five years ago.
"It really would have hurt us to have to come up with another $3,900," said Kleinsasser, director of news and media relations at Wichita State University.
"I appreciate the concern about getting some of the state's money back," he said. "But as an adoptive parent, I'd much rather see that money left with the parents so it could be spent on the child. Adoptive parents go through so much financially and emotionally, why set them back even further?"
If Lightner's bill becomes law, it will soon be challenged in court, said Allan Hazlett, a Topeka lawyer and a past president of the American Academy of Adoption Attorneys.
"It's discriminatory," he said, noting that Kansas law already requires an adoptive family's health insurance pay for both the mother's prenatal care and the baby's delivery if the adoption papers are filed within 30 days of birth.
So, the only parents likely to be affected by the new law would be those whose insurance isn't subject to state law.
"It would apply to one group, those covered by the law, and not the other, those who happen to work for a company that self-insures and whose health insurance isn't covered by state law," Hazlett said. "That's discriminatory."
A similar bill passed in Arizona, he said, and has since been overturned in federal court.
Hazlett and Marcias said Lightner's bill would not curb demand for white, healthy babies. But, they said, it would add to the challenges of finding families willing and able to adopt minority children or children with problems.
But Lightner isn't backing down. As long as the court has the authority to waive or reduce the payments, she said, there shouldn't be a problem.
"I just don't see how this would be a detriment," Lightner said. "If a family truly can't afford it that would be an assessment the judge would make."
The House Public Health and Welfare Committee was scheduled to have a hearing on Lightner's bill today.
The adoption measure is House Bill 2892.
Copyright 2018 The Lawrence Journal-World. All rights reserved. This material may not be published, broadcast, rewritten or redistributed. We strive to uphold our values for every story published.