Kansas City, Mo. — Sunday was supposed to be a celebration for No. 1-ranked Kansas University, the culmination of a perfect run through the Big 12 Conference.
All that remained for the Jayhawks, who clinched a No. 1 seed in the NCAA Tournament by going 16-0 during the conference's regular season, was a victory over Oklahoma in the Big 12 tournament championship.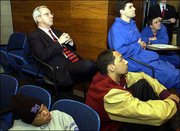 Ah, but the best-laid plans of mice and men
"We're not going to fake it, jump around like we're jumping for joy," KU junior Drew Gooden said during a somber postgame gathering in a Kemper Arena luxury suite. "We knew we were going to get a No. 1 seed. We lost the championship game of the Big 12 tournament to Oklahoma, and that was something we really wanted to win. It's not a movie set where we're going to act like we're jumping for joy.
"We are happy that we got a No. 1 seed; we are happy that we're in this tournament and get a chance to play."
The Jayhawks were a sullen lot while watching the NCAA Tournament selection show. The Sooners snapped KU's 16-game winning streak with Sunday's 64-55 victory, OU's second straight conference crown.
"It was hard when we saw we got the No. 1 seed to be really excited because we wanted to win today," KU senior Jeff Carey said. "But at the same time this loss could be a blessing in disguise as long as we learn from it. It's kind of bittersweet."
Fellow senior Jeff Boschee agreed, adding he never was worried about the Jayhawks being bounced from the top slot in the Midwest Regional.
"We put in the work the first part of the season and in the conference season," Boschee said, "and I think we deserve it."
The Jayhawks will open against Holy Cross (18-14) on Thursday at the Edward Jones Dome in St. Louis.
Are the Jayhawks familiar with their first-round foes?
"Naw, not really," Gooden said. "Are they the Gales or something?"
Actually, they are the Crusaders, who automatically qualified for the NCAAs by winning the Patriot League tournament.
"I'm pretty sure they're a good team. They made the tournament," Gooden said. "But right now I have no idea."
He wasn't alone, either.
"I know absolutely nothing about Holy Cross," Carey said.
Added Boschee, "I saw them on TV once for about 10 seconds."
In the second round, KU would have a date with the winner of the Nos. 8-9 game between Stanford and Western Kentucky on Saturday.
"We've got some tough teams in our bracket that we'll face down the road," Carey said. "Stanford or Western Kentucky will be a tough game. I don't know nearly as much about Western Kentucky as I do about Stanford."
The Jayhawks might have received a slight from the selection committee by being grouped with the Cardinal and Hilltoppers, ranked No. 16 and No. 18 respectively.
"That second-round game is going to be a tough one if we get past Holy Cross," Boschee said. "Western Kentucky beat Kentucky earlier in the season and Stanford is always tough and plays well."
At least the committee has a sense of history. If Kansas can advance to the Sweet 16 it could face No. 4-seeded Illinois. Last year it was the Fighting Illini who denied the Jayhawks a trip to the Elite Eight.
"That's probably good and bad," Carey said. "I'd love to play them again, but at the same time they're a good team. You kind of have to be careful what you wish for."
On the other hand, that was then and this is now.
"That loss was a long time ago," Boschee said, "but it would be fun to meet them again."
Sports writer Robert Sinclair can be reached at 832-7185.
Copyright 2018 The Lawrence Journal-World. All rights reserved. This material may not be published, broadcast, rewritten or redistributed. We strive to uphold our values for every story published.