Kabul, Afghanistan — Afghan women marked International Women's Day Friday by demanding more power and schooling, while in India thousands marched to protest harassment and exploitation.
Around the world, women demonstrated for peace and to demand greater rights. In the Afghan capital, women attending a women's day ceremony shed head-to-toe burqas to celebrate newfound freedoms, but most put them back on when the event was over.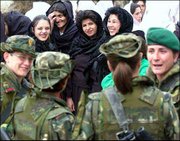 Afghanistan's government and the United Nations staged events all week to highlight the challenges and opportunities facing women after the fall of the Taliban.
Interim leader Hamid Karzai, U.N. human rights chief Mary Robinson and other dignitaries shared a podium in a bombed-out former cinema to celebrate the occasion Friday.
Speaker after speaker spoke of the hardships of being a woman in Afghanistan, but said a better future is at hand.
"We want every Afghan girl to have a pen and book in her hands and go to school," declared Sima Samar, the minister of women's affairs.
At U.N headquarters in New York, first lady Laura Bush joined U.N. Secretary-General Kofi Annan in pledging to promote equality and human rights for women in Afghanistan.
Mrs. Bush said the world has an "unprecedented opportunity" and an obligation to help Afghan women rebuild their lives.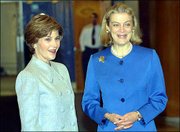 The new government has two female Cabinet ministers and has reopened schools and the workplace to women.
In India, thousands of women rallied in major cities to call for an end to discrimination and said that gender equality is key for development.
In Russia, a women's group launched a campaign Friday to collect signatures from women to protest continuing discrimination. The petition will be presented to the Kremlin.
And in Norway, which prides itself on sexual equality, the government said it is ready to go ahead with a proposal to require all companies to have at least 40-percent-female boards within one year.
Copyright 2018 The Associated Press. All rights reserved. This material may not be published, broadcast, rewritten or redistributed. We strive to uphold our values for every story published.