LaFayette, Ga. — Authorities began draining a three-acre lake Monday in their search for bodies near a crematory where more than 300 corpses have already been discovered.
Pipes drew enough water out to drop the lake level by 6 inches, authorities said. They estimate the lake outside Tri-State Crematory is 8 feet deep at its deepest point.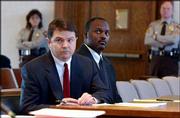 Authorities said they will probably spend more than a week dredging the dry lake bed for human remains. A skull and a torso were discovered in the lake last month.
So far, 339 rotting corpses have been discovered dumped in pits, left in sheds and stacked in vaults at the facility.
Crematory operator Ray Brent Marsh is in jail on 118 charges of theft by deception for allegedly taking payment to cremate the dead and instead passing off cement powder and dirt as ashes.
Investigators have said Marsh told them the incinerator was broken.
But on Monday, authorities disclosed for the first time that the incinerator is working properly. State emergency agency spokeswoman Lisa Ray said the machine's manufacturer successfully tested it last week.
In another disclosure, prosecutor Buzz Franklin said investigators had discovered photos of decomposed bodies on Marsh's office computer. Franklin did not say why Marsh was storing the photos and declined to elaborate.
The corpses were first discovered Feb. 15.
Magistrate Judge Jerry Day, noting more charges were likely, denied Marsh bail for a third time. Prosecutors said they were worried Marsh might be killed if released.
Sheriff Steve Wilson testified that at a victims' meeting one woman said she wanted to hang Marsh, and the threat was met with thunderous applause.
Defense attorney Ken Poston criticized the prosecution for discussing the threats. "If that isn't inviting trouble and torches and ropes, then I don't know what is," Poston said.
Copyright 2018 The Associated Press. All rights reserved. This material may not be published, broadcast, rewritten or redistributed. We strive to uphold our values for every story published.