LITTLETON, COLO. — Mary Kay Kottenstette used to spend nearly $1,500 a year, more than 10 percent of her income, on prescription drugs for gout, high cholesterol and a thyroid condition.
With the Internet, the 62-year-old part-time Spanish teacher can buy the same drugs from a Canadian pharmacy for about $1,100 a year.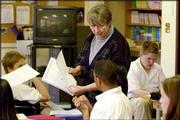 "You can't just spend everything on prescription drugs," said Kottenstette, who has no health insurance. "They're just too expensive."
Kottenstette uses a site called Canadian Meds USA, which acts as an intermediary between American consumers and pharmacies in Canada. Based in this Denver suburb, Canadian Meds USA is run by accountant Don Bozarth, who came up with the idea last year while looking for cheaper prescription drugs for his mother-in-law.
Bozarth and his wife, JoAnn, ordered several prescriptions through an online pharmacy in Winnipeg, Manitoba. They saved $225 on a three-month supply.
Several Canadian pharmacies, including canadadrugs.com, canadameds.com and pharmacy-online.ca, operate similar sites, allowing consumers to buy directly from them. Bozarth's company differs in that it is one of a handful based in the United States that guide people through the forms they need to order medications from Canada. The U.S. firms don't actually distribute the drugs.
U.S. consumers actually have purchased prescription drugs for years in Canada, Mexico and other countries where price controls or favorable exchange rates make them cheaper.
FDA looks other way
Federal law prohibits the practice, although the U.S. Customs Service allows Americans to bring a 90-day supply of prescription drugs across the Canadian and Mexican borders for personal use.
But the federal government has not pursued charges against anyone for buying personal medications from other countries in years, said Tom McGinnis, FDA pharmacy affairs director. The FDA has called its nonenforcement of the law a compassionate approach intended to help people with serious health problems.
"It's fair to say for the last several years the FDA has not been actively enforcing the law," agreed Jeff Trewhitt of the Pharmaceutical Research and Manufacturers of America, a Washington, D.C.-based industry group.
How it works
Canadian Meds helps people complete forms to order prescriptions from Calgary's Total Care Pharmacy, which has similar agreements with several other U.S. middlemen. Bozarth collects a percentage on each order placed through his Web site; he declined to specify how much that is.
To order from Canada, customers must have a prescription signed by a U.S. doctor, complete a detailed medical questionnaire and have undergone a physical within the past year.
A Total Care doctor reviews the information and writes a separate Canadian prescription that is filled and mailed directly to the customer's home.
Canadian-based online pharmacies operate similarly. Few require a physical or doctor's visit but most ask customers to fill out a medical questionnaire and a release form. Nearly all require a prescription signed by a U.S. doctor.
At rxnorth.com, another Canadian-run site, president Andrew Strempler has reservations about Web sites like Canadian Meds USA.
"When you have so many middlemen involved, customers aren't even sure who they're talking to when they're ordering the medication," Strempler said.
Business creating doubts
But the future of the cross-border mail-order business is questionable, as Canadian medical authorities express concern about its operation.
The Ontario College of Pharmacists recently filed 15 charges against one Web site, The Canadian Drug Store Inc., contending the company filled U.S. prescriptions illegally and operated an unlicensed pharmacy.
"These are our first charges. I doubt they'll be our last," said Layne Verbeek, spokesman for the College of Pharmacists.
The Canadian Medical Assn. also is questioning the ethics of Canadian doctors writing Canadian prescriptions based solely on a written questionnaire and a U.S. prescription.
"Our code of ethics says if you're going to prescribe medications, you have a professional responsibility to do a history, a physical and then discuss with the patient the risks and benefits of the medication," said Dr. Henry Haddad, association director.
"This is something Canadian physicians should not be doing."
He said the association will look at the operations of online pharmacies this summer.
Copyright 2018 The Associated Press. All rights reserved. This material may not be published, broadcast, rewritten or redistributed. We strive to uphold our values for every story published.