Flower vases have been made in a variety of nontraditional shapes since the 17th century. The Chinese made vases shaped like boats or fish. The English made flower- and animal-shaped flower holders. Victorian potters in many countries made vases shaped like hands.
Potteries in the United States were making lady-head-shaped vases by the 1930s. Flowers were placed in a hole in the lady head's hat. The finished arrangement looked like the work of a skilled hat maker.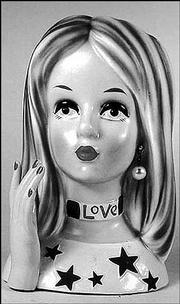 About 1975, collectors began searching for lady-head vases at garage sales and flea markets. Since then, interest has soared. Collectors pay more for vases with added features, such as a pearl necklace or earrings, a modeled hand in a fancy glove or a face that resembles a famous person.
Vases known as Jackie Kennedy or Marilyn Monroe are among the most expensive. One unusual piece from the 1960s is a 7 1/2-inch vase shaped like a girl with long, blond hair. The maker was Brinn's China and Glassware Co., which worked in Pittsburgh from the 1950s through the 1980s. This unusual lady head has a necklace that reads "Love," making it a very valuable vase.
In 1989, the vase was listed in a price book for $20. One sold recently for $1,800 at a shop in Pennsylvania.
I am curious about my rocking chair. It is maple with a spindle back and arm supports. The stamp under the seat includes some numbers and the words "Nichols & Stone Company of Gardner, Mass." Can you tell me if the company is still in business?
Nichols & Stone is still working in Gardner. It advertises itself as the "oldest furniture company still in operation in the United States." The company can trace its history back to 1762, when the Nichols Brothers Chair Manufactory was working in Westminster, Mass. The firm moved to Gardner around 1900 and was renamed Nichols & Stone when Reuben Stone became Charles Nichols' partner. By the 1930s, Nichols & Stone was specializing in Windsor chairs and Boston rockers. By the 1970s and '80s, the company also was manufacturing dining-room sets, cabinets and occasional furniture, including rockers in Shaker, traditional and country designs.
My 91-year-old cousin died and left me some odds and ends. One of them is a small, flat, ornate iron bowl with a jade handle. The bowl is curved inward and is embossed with dragons. The word "China" is embossed on the bottom.
Your iron bowl is called a "Chinese iron." It was made in China to be used as a flat iron to iron clothes. The iron was heated by putting hot coals in the small "bowl." Chinese irons were imported here and were widely used as ashtrays during the 1950s. Because of their popularity, many reproductions were made.
I recently acquired a porcelain plate that isn't old, but I can't identify it from the mark. The mark reads "Cote Basque, hand painted, copyright MANN." The year 1982 is written in Roman numerals. I have searched in reference books, but I can't find this maker.
Your plate was made by Seymour Mann Inc. of New York City. The company is best-known today as a manufacturer and importer of porcelain collector dolls. Seymour Mann also makes collector plates, tableware and gift wares.
We bought our upright piano in 1945 and have kept it in excellent condition. The piano is marked "Weber New York" above the keyboard. The number 26235 is branded inside the piano. Can you tell me how old the piano is?
The branded serial number dates your piano to 1880. At that time, Weber was one of the most respected names in the piano business. The founder of the company, Albert Weber, died in 1879. His company continued making pianos and became part of Aeolian Co. in 1903. Aeolian produced Weber pianos, a high-quality line, into the 1970s.
In my grandmother's attic, I found an old ceramic "nodder." It's also an ashtray. The nodder is a figurine of a little boy dressed in a top hat and an overcoat. He's standing on the back of the ashtray. There's an open, raised tube on the side. The phrase "Who wants to be my girl?" is printed inside the ashtray. The only maker's mark I can find is a crown above a sun.
Your nodder-ashtray was made by Schafer & Vater, a porcelain factory that worked in Rudolstadt, Germany, from about 1896 to 1962. The firm made dolls and doll parts, as well as humorous porcelain pieces. The tube on the side of the ashtray is a match holder. Some Schafer & Vater items are unmarked, and some are marked like yours. Sometimes the letter R, for Rudolstadt, is in the center of the sun. Small Schafer & Vater nodders, figurines, ashtrays and other caricatures sell for $100 to $300 apiece.
The Kovels answer as many questions as possible through the column. By sending a letter with a question, you give full permission for its use in the column or any other Kovel forum. Names and addresses will not be published. We cannot guarantee the return of any photograph, but if a stamped envelope is included, we will try. The volume of mail makes personal answers or appraisals impossible. Write to Kovels, Lawrence Journal-World, King Features Syndicate, 888 Seventh Ave., New York, N.Y. 10019.
Copyright 2018 The Lawrence Journal-World. All rights reserved. This material may not be published, broadcast, rewritten or redistributed. We strive to uphold our values for every story published.