Reno, Nev. — Archaeologists digging at the site of a black-owned saloon in a historic Old West mining town have unearthed a 130-year-old bottle of hot sauce.
The oldest style of Tabasco bottle known to exist was reconstructed from 21 shards of glass excavated from beneath the site of the Boston Saloon of Virginia City.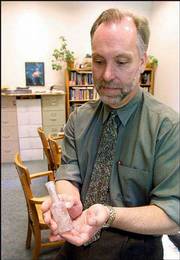 The bottle suggests that the saloon which was owned by a black man from Massachusetts and catered to blacks and whites from 1864-75 was among the first eateries to introduce the now-popular spicy sauce.
"The Tabasco bottle is particularly intriguing because of what it implies about African-American cuisine and the development of the West," said Kelly Dixon, administrator of the Comstock Archaeology Center who is supervising the dig about 20 miles southeast of Reno.
"This was an exotic product and Comstock African-Americans were apparently the ones breaking this new ground," Dixon said.
Edmund McIlhenny, a New Orleans banker, began blending aged red peppers, salt and vinegar to create the Tabasco brand pepper sauce in 1868 on Avery Island, La.
McIlhenny Co. officials say the sauce maker first used discarded cologne bottles to hold his sauce but soon was making his own bottles specifically for his product.
"This discovery helps us fill the earliest chapter of our company's history," said Shane K. Bernard, a Tabasco sauce historian and curator of the company archives.
The Comstock Mining District was one of the richest sources of gold and silver ever discovered.
The Boston Saloon site is behind the Bucket of Blood Saloon, which was established in 1876 and still stands at the corner of D and Union streets. Samuel Clemens, better known as Mark Twain, got his start a block away at the local newspaper, the Territorial Enterprise.
Copyright 2018 The Associated Press. All rights reserved. This material may not be published, broadcast, rewritten or redistributed. We strive to uphold our values for every story published.