Las Vegas has nothing on Elvis Parsley.
The 8-week-old guinea pig on Saturday donned a green lamape and waddled onto a miniature stage backed in red velvet and flashing lights to squeak out his rendition of the king of rock 'n' roll's "Blue Suede Shoes."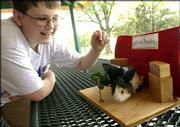 What makes a guinea pig sing? A microphone made of parsley, of course.
"Parsley is like a guinea pig's candy," said Jennifer Jacobs, the Lawrence guinea pig enthusiast and rescuer who organized the Second Annual Lawrence Pignic. The gathering Saturday at Centennial Park brought together several dozen members of Lawrence's guinea pig subculture and their pets for pig races, a parsley-eating contest and best-dressed awards.
Elvis Parsley, whose real name is Calico Lightning, took the last category hands down. He beat out Bathing Beauty, a guinea dressed in a swimming suit; Baby Guinea, complete with diaper and bib; and Britney Spears guinea, whose long hair tamed with colorful clips bore a faint resemblance to that of the teen pop idol.
Calico Lightning also won the first piggy race, lured the length of the caged track by his parsley-waving owner, Stephen Mason, 11.
Carrie Lindsey lassoed the power of parsley as well. All she had to do to get the attention of her daughter's pig, Caramel, and her own pig, Skinny G short for Skinny Guinea was crinkle a plastic produce bag used to bring the green goodness home from the store. Instantly, her pets' noses lifted toward the sky, sniffing wildly for the treat they craved.
"I've become obsessed with guinea pigs," she said.
She's not the only one.
Alyssa Buecker, an 18-year-old who's become something of a celebrity for her films starring guinea pigs, now has nine of the fuzzy critters.
"They're just adorable," she said. "I've just always loved little furry things."
Buecker brought three of her movie-star piggies to Saturday's affair: Ronnie, Milkshake and Mopsy, who was crowned queen of the pignic. Jacobs' pig Leo was named king.
Other piggies kept a lower profile. A black and white guinea named Charlie wandered curiously under a picnic table on the end of a red nylon leash with a tiny black harness crafted just for his mini guinea head. Dominie Haas, who was keeping an eye on the pig for her daughter, Gabriel Ann, 7, said it was 7-month-old Charlie's first time on the leash.
"Now that it seems to be working, we'll probably take him on walks," she said.
But it doesn't take too many hours around guinea pig owners to realize they're not in it for their piggies' athleticism or talents it's all about fur and cuddles.
"He likes to lay on your belly when you're watching television," Gayle Sigurdson, Stephen's mom, said of Calico Lightning.
"Guinea pig babies are born fully formed and furry," said Lindsey, whose guinea girl and boy are Calico Lightning's parents. "Baby guinea pigs never go through an ugly stage."
Copyright 2018 The Lawrence Journal-World. All rights reserved. This material may not be published, broadcast, rewritten or redistributed. We strive to uphold our values for every story published.