Washington — President Bush transferred the powers of his office to Vice President Dick Cheneyon Saturday before being sedated for a colon test that found no problems, then reclaimed authority two hours and 15 minutes later.
After being sedated for 20 minutes for the test at Camp David, Bush ate a waffle and played with his dogs Barney and Spot before telling aides he was ready to resume office, White House officials said.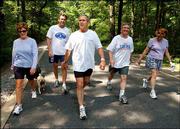 Cheney, 61, responded to the transfer of power with similar nonchalance, holding regular national security and homeland security meetings with aides at the White House but making no appearances and taking no recorded actions, according to his staff.
Bush invoked the Constitution's 25th Amendment, which provides for the temporary transfer of power if the president is unable to fulfill his duties, at 7:09 a.m. Military doctors then administered an anesthetic and performed the colonoscopy, finishing at 7:29 a.m.
"No polyps were found, and no evidence of any abnormalities was discovered," a White House statement said. "The president awoke at 7:31 a.m. The power of the presidency was returned to President Bush at 9:24 a.m." White House Counsel Alberto Gonzales said Bush waited to resume his duties because officials wanted "to reassure everyone that the president was not going to be making a decision to rush back into and assume authority and power."
Officials said Bush then took a 4.5-mile walk around Camp David with first lady Laura Bush, younger brother Marvin Bush, and Chief of Staff Andrew Card and his wife, Kathleene.
The presidential physician, Air Force Col. Richard Tubb, appearing afterward at the White House in a white coat with the presidential seal, said Bush was in good spirits and "continues to be in outstanding health."
"He is an inquisitive patient he wants to know exactly what's going to transpire and afterwards, what has transpired," Tubb said. "He would be joking about the exam and about wanting to get back to a normal diet and normal activity."
Tubb recommended similar screening for people over 50 Bush will turn 56 on July 6 and said colon cancer often has no symptoms or warnings.
Copyright 2018 The Lawrence Journal-World. All rights reserved. This material may not be published, broadcast, rewritten or redistributed. We strive to uphold our values for every story published.