NAPLES, FLA. — When Myra Janco Daniels was 8 years old, she bought her first painting a small piece by American landscape artist Andrew Wyeth with $50 she borrowed from her grandmother.
The experience prompted a lifelong love affair with the arts and taught her a lesson in economics. She had to pay her grandmother back.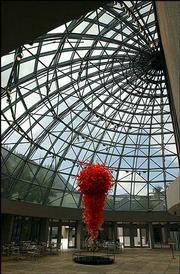 "I think the arts have always been in my blood," said Daniels, who came to sleepy southwest Florida in the 1980s from Chicago to retire from the hectic pace of the advertising business.
She found a small community with no live music, no museum, no theater or dance. "I was depressed, slightly," she said.
She went to work, eventually inspiring 189,000 people to contribute to her dream an arts complex with an acclaimed Philharmonic center and museum.
"A community without the arts is a community without soul," she said.
Daniels is chairwoman and CEO of the Naples Philharmonic Center for the Arts, a $100 million business she built. And she hasn't stopped yet.
The Philharmonic hall opened in 1989 with a budget near $2 million a figure that has soared to more than 10 times that amount. The orchestra is under the world-class batons of pops conductor Erich Kunzel and classical conductor Christopher Seaman, both of whom Daniels enticed to come to Naples.
Two years ago, a $10 million glass-domed Museum of Art was added to the complex, which stands today at more than 8 acres. The first year it drew 100,000 visitors.
Connecting the two buildings is a set of impressive 16-foot-tall portal gates by noted sculptor and architect Albert Paley. His works include gates at the Marriott Hotel in Washington, sculptures at the San Francisco courthouse and a bronze wall relief at the Gannett building in Washington.
Age 'just a number'
Daniels, who sidesteps questions about her age by saying it's just a number, also bought a building that she plans to turn into a school for the arts to round out the venue.
"I've been a CEO of several companies, and I've never met a person so dynamic," said Bill Schoen, CEO of Health Management Associates and a board member of the philharmonic. "Today the Phil has over $100 million of assets, and Myra is the chief reason. She is tenacious and well-educated, has tremendous energy and is a visionary who can carry projects to completion.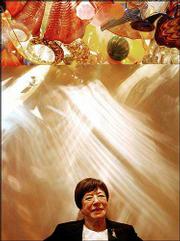 "People do not have to travel outside Naples for Broadway shows, classical or pops music, ballet or opera, or to visit a museum," Schoen said, adding that there are 250 shows a year.
To make it all happen, Daniels called on art lovers and cultural foundations and painted the need to rich and poor alike. She brought in donations from $1 from a boy to millions of dollars.
Everything has a name
She sold everything in the building.
An elderly couple wanted to own a big spire that they could drive by and see. The complex has modern Gothic spires with sculpted gardens that sit between buildings.
"We named everything except the urinals," Daniels said.
Seats in the Philharmonic have medallions with names on them. The hall has a spacious lobby for entertaining and green marble everywhere. The auditorium has four art galleries to merge visual and performing arts. There is a lecture hall for chamber music or a reading, and the stage in the main hall is for theater or concerts.
Programs have run the gamut from serious Russian classical music to country star Crystal Gayle, a Shakespeare series and book reviews. Performances have drawn more than 500,000 people. About 55,850 children have come for the children's programs.
"Most people have a museum or an orchestra or a dance company or a performing arts center. We put it all together," Daniels said.
This year she started a youth orchestra for young people ages 9 to 17, and there is a youth chorale with 110 voices.
The museum was built with $10.3 million collected in six weeks.
"I called on people who love the arts and said, 'We can do this. If everybody does something, we can have it.'"
A 'baton twirler'
Today, she has a star-studded 42-member board, a $27 million budget and a rich life. She credits the generous community of Naples, where many former CEOs and heads of blue chip companies own a second or third home.
"I am just a baton twirler," she said. "This community made it happen. We are an example of making something from nothing."
Daniels was blessed with a talented family. Her mother sang opera; her father played violin, her grandmother taught her business sense.
An only child, she grew up in Gary, Ind., with no playmates. She went to work with her grandmother, who set her up with a desk and small chair at age 4. She made crepe-paper hats and supplied them for neighborhood parties.
"That was my first lesson in economics," she said. Her grandmother's advice: hone in on something people want or need.
Daniels and her husband, Draper Daniels, came to Florida in 1980. After he died in 1983, she rattled around in her Marco Island home until she decided to start a chamber orchestra.
"This chamber orchestra is now a full-fledged symphony," she said.
The most interesting gift came as Daniels was getting started. A woman had parked her bike and came in to support the idea as "the best thing we ever had." She promised $10 from every Social Security check, and did it until she died.
Francis Pew Hayes from the Sun Oil Pews promised $25. "When I got it, it was $25,000," Daniels said.
Retirement is often a 12-hour day and sometimes 16 hours. But Daniels wouldn't have it any other way.
"What better way to spend retirement," she said, "than a 7:30 a.m. meeting, a 12:30 p.m. lunch, a 7 p.m. lecture or show and an opportunity afterward to meet the artists and exchange views?"
Copyright 2018 The Associated Press. All rights reserved. This material may not be published, broadcast, rewritten or redistributed. We strive to uphold our values for every story published.