Pinedale, Ariz. — All that's left of the Pinedale fire station is a metal roof, blackened and twisted. But walk 30 feet and goldfish are swimming in a small pond beside a log cabin that was barely touched by the wildfire that spread through Pinedale last week.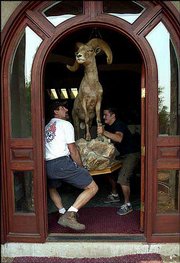 As residents returned to their mountain homes Saturday for the first time since the fire hit, they found a patchwork of burned houses amid islands of untouched land.
"It will hit me. It'll take time," said Jean Stapley, who found her retirement home burned to its cinderblock foundation. "It was such a fun house for the grandchildren."
Up the highway, residents of the area's biggest town, Show Low, were elated to find their homes and neighborhoods unscathed. The largest fire in Arizona history had come within 2,000 feet of the city's edge.
The threat from the 447,000-acre wildfire wasn't over for eastern Arizona, though. By Saturday, it had destroyed at least 423 homes and was about 25 percent contained by fire lines near Show Low, but it continued burning out of control elsewhere.
Firefighters were struggling to keep the flames from bursting out of steep canyons and into the 600 homes of Forest Lakes, about 40 miles west of Show Low.
The community of Forest Lakes sits on a plateau above steep canyons. Flames pushed out of one of the canyons during the night and started several spot fires beyond a containment line, fire spokesman Jim Paxon said.
Copyright 2018 The Associated Press. All rights reserved. This material may not be published, broadcast, rewritten or redistributed. We strive to uphold our values for every story published.