A parking crunch at the Judicial & Law Enforcement Center won't be enough to push Douglas County commissioners into building a new parking lot on county-owned property across Rhode Island Street.
At least not yet.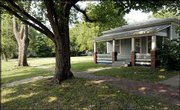 Monday morning, commission Chairman Jere McElhaney couldn't muster enough support for spending about $115,000 to build a 40-space parking lot on three residential lots in the 1100 block of Rhode Island Street.
McElhaney argued that building the parking lot would serve county employees and others who are called to the center to go to court, visit law-enforcement offices or report for jury duty. The center's own lot often fills in the mornings, especially when people are called for jury selection.
McElhaney figures it would be better to spend $115,000 now than continue to rent the 36 spaces county employees use at Allen Press, at the northeast corner of 11th and Massachusetts streets. The month-to-month lease costs $6,000 a year.
"That's not a good business decision," McElhaney said. "It's a better business decision and more economically feasible to put a parking lot on land that we already own."
Members of the East Lawrence Improvement Assn. countered with assertions the lots should remain available for residential uses. The county should sell the three lots, they said, to someone interested in providing low-income housing for residents.
Commissioner Charles Jones, whose district includes the center and nearby lots, urged commissioners to back the neighborhood's cause and let go of untenable plans for parking in a neighborhood.
Parking plans have surfaced every few years, he said, only to face neighborhood opposition so strong that nothing could happen.
The county would be better served if managers simply would instruct their employees to park farther away on days likely to see parking crunches, Jones said.
"Just tell your employees to park in the Trinity Lutheran (Church) lot," Jones told Linda Koester-Vogelsang, who oversees 80 employees as district court administrator.
One thing commissioners could agree on did surface Monday: The lone house on the county-owned lots at 1120 R.I. either should be razed or relocated, once county records could be moved to a more appropriate location. The home's windows have been boarded up and the property has fallen into disrepair, much to the displeasure of nearby residents.
Commissioners said they would explore options for dealing with the house, possibly by relocating records storage to the remodeled center or to a proposed new building at the Douglas County 4-H Fairgrounds.
Copyright 2018 The Lawrence Journal-World. All rights reserved. This material may not be published, broadcast, rewritten or redistributed. We strive to uphold our values for every story published.