DUESSELDORF, Germany — Todd Husak threw two touchdown passes to Dane Looker as the Berlin Thunder defended their World Bowl title with a 26-20 victory Saturday against the Rhein Fire.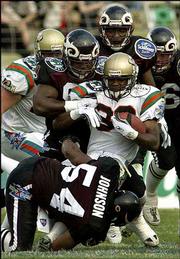 Husak connected with Looker for first-half touchdown scores of 41 and 15 yards, as the Thunder showed why they had been NFL Europe's best offensive combination all season.
"Every quarterback likes a guy he knows can make plays for him," Husak said. "I've put my trust in Dane all season and he's always rewarded me. You'd be dumb not to take advantage of that."
Looker, hoping to break onto the St. Louis Rams' roster, was chosen as the game's MVP with 11 catches for 111 yards.
The 10th World Bowl drew a Rheinstadion record 53,109 spectators, but the Thunder silenced the partisan Fire crowd by taking a 20-0 lead in the first half.
The Fire made the game look closer than it was when quarterback Tee Martin dashed over the middle from 1-yard out with 20 seconds to play.
Copyright 2018 The Associated Press. All rights reserved. This material may not be published, broadcast, rewritten or redistributed. We strive to uphold our values for every story published.