Los Angeles — Winona Ryder has poked fun at her shoplifting arrest on "Saturday Night Live," the MTV Movie Awards and the cover of W magazine, which featured her wearing a "Free Winona" T-shirt.
Her publicist, Mara Buxbaum, said the actress who has pleaded innocent to shoplifting and drug charges has only been trying to be self-deprecating.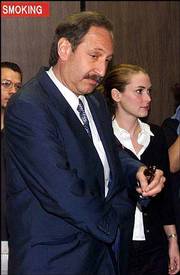 "The jokes that were made were self-mocking," Buxbaum said. "She was trying to joke about herself and at no level was she trying to be disrespectful to the courts and legal system."
But prosecutors aren't amused.
"This is a criminal case, these are serious charges and not really a joking matter," said Sandi Gibbons, a spokeswoman for the Los Angeles County district attorney.
Ryder has been stuck trying to promote hew new comedy, "Mr. Deeds," while avoiding serious discussion of the felony case.
Other stars have used humor to blunt a scandal's edge, although usually not until the legal matter has been settled, said Alan Mayer, one of Hollywood's top crisis-management publicists.
"If the charge is something that is not horrendously serious ... it's not necessarily a bad idea to appear in public and, not so much make light of it, but at least indicate this is not a nuclear confrontation in South Asia," said Mayer, who represented Halle Berry in her 2000 car-crash case and comedian Paula Poundstone in her child endangerment case last year.
Hugh Grant's appearance on "The Tonight Show" in 1995 shortly after his arrest with a prostitute is considered a prime example of using humor to defuse a scandal. But the actor joked only after apologizing publicly.
"I think it would be bollocks, really, to hide behind (excuses)," he told host Jay Leno. "I did a bad thing ... There you have it."
Ryder, however, seems to be following in the footsteps of singer George Michael, who has said he thinks that the unfavorable community service deal he got in 1998 was the result of a video he made satirizing the police who arrested him for lewd conduct.
Ryder, who declined to be interviewed for this article, was arrested in December at a Saks Fifth Avenue store in Beverly Hills for allegedly possessing painkillers without a prescription and stealing nearly $6,000 worth of designer merchandise.
Charged with second-degree burglary, grand theft, vandalism and possession of a controlled substance, the 30-year-old could face more than three years in prison if convicted. A tentative trial date has been set for Aug. 13 in state Superior Court.
Ryder's attorney, Mark Geragos, says the incident was a misunderstanding turned into malicious prosecution.
So far, prosecutors have rejected Ryder's efforts to get her charges reduced to misdemeanors, and have suggested that her alleged theft is part of a pattern of behavior.
"From just a human being's perspective," said Gibbons of the district attorney's office, "I don't shop at Saks. I'm more inclined to shop at (discount store) Target, as are most people. I don't know what kind of jury she's going to have, but if they're people like me then perhaps they won't be laughing either."
The arrest and its fallout have upstaged Ryder's roles in "Mr. Deeds," which opens later this month with Adam Sandler, and the sci-fi drama "Simone," with Al Pacino, due in August.
Ryder's last two projects, the Satanic thriller "Lost Souls" and the weepy romance "Autumn in New York," were box office disappointments.
In her "SNL" monologue on May 18, Ryder deadpanned, "You know, people have been acting a little strange around here. You know, there's like, you know, a lot of like locking of doors and and shifty eyes and and a lot of frisking."
In a later shoplifting sketch, she mockingly scolded other characters for stealing.
Some sympathizers see Ryder's arrest as a setup, while other fans consider her behavior evidence of a troubled psyche.
"Fan or not ... don't you think her explanations have been a bit weak? Don't you think her behavior has been a bit odd?" wrote admirer Darren Garrison in a Winona Ryder chat posting. "Being a fan shouldn't mean turning a blind eye."
Said Mayer: "It's not enough for (a celebrity) to be innocent of the charges. They have to act in the way that the public expects an innocent person to act."
Copyright 2018 The Associated Press. All rights reserved. This material may not be published, broadcast, rewritten or redistributed. We strive to uphold our values for every story published.