New York — It's a multibillion-dollar segment of the fashion industry, and now urban fashion has its own award show.
The first Urban Fashion Awards, with a slew of 27 categories honoring designers, models, and stylists among others, were recently held at Lincoln Center's Avery Fisher Hall.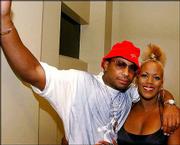 The awards were the brainchild of Tonya Payton of the public relations firm S&S; Associates, who freely admits that she didn't know much about urban fashion before the last year or so, when she worked on an urban fashion event in Miami.
As she started researching, what she found was a clothing niche with global sales that to her mind didn't get enough recognition.
"I found that there was no real outlet for urban fashion as far as awards," she said.
So she decided to create one, dipping deep into her personal resources to finance it and getting a high-profile place like Avery Fisher Hall to host it.
"I knew it had to be someplace like Avery Fisher for people to take it seriously," she said.
She sent out ballots to media people connected to the fashion world to get her nominees in categories like urban menswear, womenswear, outerwear, athletic, denim design. Those nominees included lines that have been around for years, like Pelle Pelle, Ecko, Enyce and FUBU, and lines linked to celebrities, like Russell Simmons' Phat Farm and Sean "P. Diddy" Combs' Sean John, Jennifer Lopez's J.Lo and Jay-Z's Roc-A-Wear. (Combs' Sean Jean line was the only "urban" line to be recognized this year by the Council of Fashion Designers of America.)
The awards also recognized those besides designers who are part of urban fashion's success: stylists, makeup artists, buyers and marketers.
A $10,000 scholarship, sponsored by Pelle Pelle chairman Marc Buchanan, was presented to a second-year student at the Fashion Institute of Technology.
An award for lifetime achievement went to designer Tommy Hilfiger, who makes an effort to court the urban market despite his mostly preppy styles; and the humanitarian award was given to Simmons, co-founder of Def Jam Records and founder of Rush Communications, whose Rush Philanthropic Art Foundation brings arts enrichment programs to various communities.
The pioneer award was given to Karl Kani, who in partnership with Cross Colors, was among the first to have an urban fashion line, starting in the late 1980s.
"I think it's about time someone put together an award show to pay homage" to urban fashion, said Kani, who now designs his own self-named label.
He said the mainstream fashion industry tended to ignore urban designers, but "I don't think we need them to legitimize us."
Starting out as clothes and styles that first became popular among young, predominantly minority, hip-hop listening city kids, urban fashion has moved beyond offering only the oversized jeans and sweatshirts it once did.
"Urban Fashion has now become collection driven," said Tom Julian, trend analyst for the ad agency Fallon Worldwide.
And its sales, about $5 billion a year, have expanded far beyond the American cities it started in to the suburbs and rural areas of America as well as other parts of the globe.
"It is a piece of the apparel category that is growing. ... It is a whole look, a whole lifestyle," Julian said.
Copyright 2018 The Associated Press. All rights reserved. This material may not be published, broadcast, rewritten or redistributed. We strive to uphold our values for every story published.