Evora, Portugal — The skulls of hundreds of medieval monks stare out of an ancient chapel's chilly walls in this myth-rich region where Arab fortresses from Crusader times keep watch over an enticing landscape of vineyards and cork and olive trees.
The Alentejo province is mostly arid but it is a majestic and little-known corner of Portugal, one of the world's top 20 tourist destinations.
Portugal, a country of 10 million people, is hardly affected by terrorism and enjoys one of Europe's lowest crime rates.
A world away from the cultural sophistication of Lisbon, the capital, or the mass sun-and-sand tourism of the southern Algarve coast, the Alentejo covers an area the size of Greater Washington, D.C.
But this farming province is anything but dull.
It offers a Roman temple rising from a medieval town; a palace where the last king of Portugal whiled away his days writing and decorating Portuguese menu cards; desolate, centuries-old fortresses sprouting from the plains; and an ancient market town at the heart of Portugal's wine industry.
"It's as if nothing's changed for centuries," says Mike Tate, 36, a British visitor.
Evora, a fortified town whose narrow, winding streets and many of its 50,000 inhabitants fit snugly within its medieval walls, is the region's main city.
Perhaps its main attraction is a hilltop Roman temple whose graceful columns stand alone in a square that is faced on one side by the Pousada dos Loios, a former 15th-century convent where you can dine in elegant cloisters. "Pousadas," like Spain's paradors, are palaces, castles and monasteries or convents converted into upmarket hotels.
Evora, about 65 miles east of Lisbon, is a symphony of architectural styles and ages.
A block away from the Great Square, the 12th-century cathedral's soaring arches grace a building that has a serene cloister and a Sacred Art Museum.
Next door is the gruesome Chapel of Bones, a testimonial to the thrift of 16th-century church authorities.
When they wanted to use the town's 42 monastic cemeteries as real estate, the authorities dug up the bodies and covered the walls and pillars of the chapel with the skulls and bones of about 5,000 monks.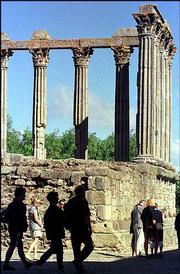 For lighter sightseeing, visitors can leisurely admire Evora museum's collection of Renaissance sculpture and paintings.
Leaving the town you pass through the sprawling agricultural estates spread in a style of farming that Julius Caesar founded when he divided up the land on Roman conquest from Celtic tribes.
The landowners' white manor houses top the gentle hills of their holdings, surveying the lines of olive and cork trees and vines that stretch to the horizon.
"The land's vast. It just opens up before you," says Joaquina Alexandre, 40, a secretary from the nearby village of Alvita.
Legend tells of Hannibal marching his North African army with its war elephants through this gentle landscape to cross the Alps and storm Rome in 218 B.C.
Other towns of interest dot the province and are easily reached by car:
Marvao
The parched scenery becomes greener as mountains rise up toward the Spanish border, an area studded with castles to fend off invasion. Intermarrying between Spanish and Portuguese nobility allowed the ruling houses of Spain to claim this part of the Iberian Peninsula and wars raged for centuries.
Taking the road that strains and bends to the Arab mountaintop fortress village of Marvao, which soars up to 2,400 feet, its ramparts, castle, and church spire suddenly appear and jump out of sight to emerge from a different angle.
Descending to the thinly populated plains through groves of twisted olive trees you pass through what is one of Europe's economically poorest regions.
Prehistoric standing stones and stone circles litter the landscape, erected millennia ago by ancient, mysterious peoples of whom little is known.
| | | |
| --- | --- | --- |
| | | |
| | Getting there: Lisbon's international airport is an hour's drive from the Alentejo region. The A6 highway, a major route from Madrid to Lisbon, and the countries' rail links, cut through the region.Lodging: Portugal has an excellent network of upmarket hotels, known as "pousadas." They are either in historical buildings or sites of natural beauty and are reasonably priced. Details can be found at www.pousadas.pt.The Alentejo region has a broad range of hotel and self-catering accommodation to suit most price ranges. They run the gamut from two-star hotels for $17 a night, to Vila Vicosa's luxury converted 16th-century convent, Pousada D. Joao IV, where rooms range from $110 $130. A decent three-star hotel, such as the Monte Gil near Estremoz, costs $34 a night.Dining: Expect to pay around $7 to $17 per person for a meal with wine in the medium-to upper-medium range. Information on Portugal's food and wine can be found at www.portugalvirtual.pt/80drinkeat/Activities: Several places in the region rent horses for riding for around $17 for two hours. For nature lovers, there are country walks, boating trips and cycling. And a visit to the Alentejo is not complete without a visit to its vineyards, which have tasting sessions.Information: Excellent information on Portugal can be found at www.portugal insite.pt. | |
| | | |
In the villages, friendly locals who enjoy an easygoing pace of life, are ready to chat and help foreigners; many of the young people speak English.
Old men with cloth caps soak in the sun and watch the world go by on benches in front of cafes and their houses, which are painted blue and yellow to keep spirits and diseases away.
Estremoz
At the foot of a hill with its castle's great keep and massive wall nestles the market square of Estremoz where you can buy everything from orange trees and live turkeys to jars of homemade pickles and huge, fresh cheeses.
The region's specialty is cheese from sheep's milk bound with thistle flower. Famed local cheeses are Estribeiro, Queijo Evora and Serpa. They can be hard and aged for up to two years cured with olive oil and paprika, or soft and creamy with a pungent flavor.
Estremoz's greatest fame, however, stems from nearby quarries, whose white marble with few veins is of such good quality that it is shipped to Italy, Japan and Israel. The town's sidewalks sport marble cobblestones. The lintels and doorsteps of even the humblest of shops and homes are made of marble. Here it is the cheapest building material.
Vila Vicosa
Here, in another marble town, an 800-year-old, ivy-clad castle overlooks a tranquil boulevard lined with orange trees and marble benches.
In the massive Braganca Palace, which houses one of the country's best armories, Portugal's last king, Manuel II, ended his days, writing and decorating menu cards for Portuguese dishes, before sailing to exile in England after his overthrow in 1910 when the current republic was established.
Alentejo cooking is still one of Europe's undiscovered cuisines. Tourists have recently found the delights of peasant dishes from France, Italy and Spain, while overlooking Portugal's. You are unlikely to find a Cordon Bleu chef in the cafes' kitchens, but you will very probably find mom there cooking the dishes that her grandma taught her.
Vegetable pottages are delicious and complement lamb, pork, beef dishes. A specialty is cod marinated in sweet red peppers, ground with garlic and slow cooked with paprika and white wine. Wholesome bread baked in the village is as fresh as the free-range eggs from local farms. For mouthwatering appetizers there are olives, seafood salads, black-eyed beans and chick peas.
And in child-friendly Portugal, little ones are always welcome, even in bars late at night. However, the region's tourism is not sufficiently developed to have much in the way of entertainment for children.
Copyright 2018 The Associated Press. All rights reserved. This material may not be published, broadcast, rewritten or redistributed. We strive to uphold our values for every story published.