When Willie and Nancy Amison moved from a well-established neighborhood with mature shade trees to a new development with few trees, they had to make some adjustments.
"You miss the big trees," Nancy said.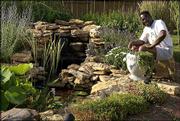 They also were accustomed to having a patio at former residences, something their new home at 549 Arrowhead lacked until Willie began constructing one.
"We didn't realize how much we missed it," she admitted. "This will be a little retreat."
Their retreat, one of the sites on this year's Sunflower Water Garden Tour, overlooks a beautiful garden that is only 4 years old. An attractive wooden fence frames the trees, perennials, ornamental grasses, annuals and a pond that make up this spectacular garden.
"He has done all of this himself," Nancy bragged. "Everything from the pond, to the flowerbeds, to putting up the fence."
"The pond was started before the house was ever started," explained Willie, assistant principal at Lawrence High School. "That's the first thing I did was the water garden."
Red bricks edge the berm, which has attractive plantings in it. Native stones surround the pond. Willie placed every stone by hand, except for the huge one under the waterfall.
"Oh, every rock has been moved at least six times," Nancy noted. "Till it's perfect."
And perfect it is. A sittin' bench, as Nancy calls it, next to the pond provides a perfect place for her to sit and listen to the water and watch the fish swim by.
"I haven't lost a fish in three years," Willie added.
To give his garden a healthy start, Willie hauled in countless loads of manure and fertile soil.
| | | |
| --- | --- | --- |
| | | |
| | The Sunflower Water Garden Society will have its annual water garden tour from 9 a.m. to 4 p.m. Saturday and 10 a.m. to 4 p.m. June 30.The tour includes 16 sites, from tiny pools to giant waterfalls to ponds with gardens.Tickets are $10 and are good for both days. Tickets are available at Water's Edge, 847 Ind.; Clinton Parkway Nursery and Garden Store, 4900 Clinton Parkway; and Sunshine Garden Center, 15th and New York streets. | |
| | | |
"It's all clay here," he said. "That's why I have raised beds."
His hard work has paid off.
Ferns, hostas, daylilies, hollyhocks and even bird of paradise plants thrive under Willie's nurturing.
"I like little pops of color," he said.
Calla lilies and gladiolas offer surprise blooms.
"Something's blooming all the time around here," Nancy added.
"It takes a couple of years to get established," Willie said. "Patience is what a gardener has to have." Strange words from a man who also told me, "I want to do it now. When you have a project, you want it done."
---
Carol Boncella is education coordinator at Lawrence Memorial Hospital and home and garden writer for the Journal-World.
Copyright 2018 The Lawrence Journal-World. All rights reserved. This material may not be published, broadcast, rewritten or redistributed. We strive to uphold our values for every story published.