There was no Hollywood ending Saturday night.
Legendary football coach Herman Boone famous from Denzel Washington's portrayal of him in the movie "Remember the Titans" didn't have to worry about race relations during the first Native American All-Star football game at Haskell Stadium, but he couldn't stop his East team from making major mental mistakes that cost it in a 27-10 loss to the West squad.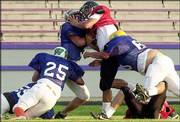 "We played a great game, the kids were great, they were great all week," said Boone, who is half-Cherokee. "But we simply made too many mistakes."
For Boone, and many of the nearly 1,500 fans that came to Haskell Indian Nations University's campus Saturday night, the game was secondary. Instead the event became a celebration of Native American athletes.
"This game will go down in history because it was the first Native American game in the United States," said Boone, who played a massive role in helping the city of Alexandria, Va., become integrated when he mixed white and black football players at T.C. Williams High as head coach in 1971 the basic plot behind the Walt Disney movie.
"It's more than a privilege to be a part of this wonderful nation of people."
The actual game itself wasn't as colorful as the post-game festivities. Except for two heated on-field meetings between Boone and West coach Carl Madison that showed that the two old-timers might have had more intensity than all the all-stars combined.
But Madison, who is nearly as famous for his high school football lore in the south as Boone, said the confrontations came from a misunderstanding of the rules.
"We really didn't understand the rules," said Madison, whose1988 PIne Forest High football team was named USA Today National Champions. "We thought we were playing with high school rules but they were using college rules. That's what the two stoppages were about."
That might have been the case, but the pride and intensity both coaches incorporated into their multiple week-long practices probably also played a part.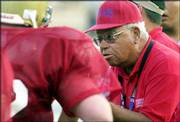 The one consistency on both sides was that neither team did a great job of playing fundamental football. The two teams combined for 12 fumbles alone and also racked up 125 yards in penalties.
And the mistakes started from the onset when East runningback David Stefanek took a surprise handoff 61 yards for an apparent score. However, a personal foul penalty erased the six points and any momentum East had e.
Something it would not regain until the final five minutes of the


"I had the best time of my life this week coaching these kids this week. I haven't been in coaching for 18 years, and I got fired up again. I got to find me a team to coach. Anybody out in here in Kansas need an old broken down coach that still wants to coach, call my agent.

"It was a pretty good football game, we had a couple pretty good football players out here too
Copyright 2018 The Lawrence Journal-World. All rights reserved. This material may not be published, broadcast, rewritten or redistributed. We strive to uphold our values for every story published.