Glenview, Ill. — Back in the dark ages of the packaged foods business, developing "instant" Jell-O pudding that took 15 minutes to prepare was a big breakthrough and frozen concentrate was the fastest thing going in orange juice.
Today's consumers often won't stomach the wait or the inconvenience. So the quest for quicker, easier and, yes, tastier products has become an obsession at manufacturers such as Kraft Foods Inc., where more than $350 million a year is dedicated to finding the next big thing in food innovation.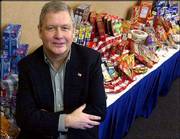 A whiff of the future is in the air at the food behemoth's main research and development center in this northern Chicago suburb, and there's no doubt about it: It's going to be more convenient.
Take the deep-dish pizza vending machine. Developed inside the labyrinthine, 500,000-square-foot R&D; facility, it stores frozen pizza and transfers it to a cooker carousel which feeds it into an adjacent oven. Total waiting time: under two minutes.
In spotless test kitchens elsewhere, research chefs show off Kraft's new entry in the fast-growing $18 billion convenience-dinner business: Freshmade Creations, refrigerated dinner kits. The white-hatted chefs say the boxed meals, which need just a pound of chicken or ground beef added, are a blend of art and science with a healthy dollop of simplicity thrown in.
In a lab below ground level, packaging and engineering specialists have devised the Maxwell House E-Z Open Top coffee can. As with the other innovations, it is designed to slice food preparation time to the minimum.
"The whole history of the food industry is about convenience," said John Ruff, Kraft senior vice president for research and development. "One of the keys is trying to anticipate change."
It's only been in the last three to five years that the industry, spurred by consumers' wishes, has truly gone all-out for convenience, according to industry consultant Ken Harris.
"Things that would have been considered ridiculous in the past have become mainstream products," said Harris, of Evanston-based Cannondale Associates.
The evidence is, well, simple: Packaged peanut-butter-and-jelly squares. Bread with the crusts cut off, for children. Campbells Soup at Hand, prepared in sippable containers that shave precious seconds from the hand-to-mouth process. Kraft's Easy Mac, a step or two quicker than previous macaroni and cheese dinners.
"Companies like Kraft that are smart think, 'Well, if it took five minutes in the past, how can we get this done in one minute and charge a premium for it?" Harris said. "They're trying to capitalize on the fact that people don't know how to cook any more."
Competing rivals
The foray into convenience meals with Freshmade Creations isn't a first for the nation's largest food manufacturer. Kraft took on General Mills' Hamburger Helper, the long-unchallenged leader in that category, in 1998, transforming the classic Stove Top stuffing into Stove Top Oven Classics meals by adding sauces and seasonings. It also acquired Borden's It's Pasta Anytime! microwaveable meals a year ago.
Competitors aren't standing pat. General Mills fought back with new varieties of Hamburger Helper, while Campbell Soup and Stouffer's, part of Nestle USA, also have stepped up their efforts.
There's more than convenience to Kraft's new products, which generated $1.1 billion of its $8.8 billion in 2001 sales.
Stagnant food industry growth is cause for concern even for a company boasting 61 brands with revenues of at least $100 million last year including Oscar Mayer meats, Nabisco cookies and crackers, Post cereals, Philadelphia cream cheese, Grey Poupon mustard, DiGiorno and Tombstone pizza and Altoids breath mints. So the company, based in adjacent Northfield, invests heavily in innovation to try to pump up the volume.
Big time spending
Kraft pours money into flavor and aroma research and analyzes everything from meltability to texture in its culinary labs here, efforts which have produced everything from a breakthrough in frozen pizza in 1995 its "rising crust" technology to this spring's new Rip-Ums cheese snack for children. It employs teams of scientists among its 800 Glenview employees and even grows its own herbs for cooking studies in a garden outside the research facility, one of five such centers worldwide.
Sensory panelists are summoned twice a week to sit in small white booths, studying product innovations under orange lights that neutralize color. Nearby, technicians use computer imaging to tinker with graphics, changing the size or color of a jelly bean or design of a Spring Oreo container with the press of a mouse.
The economic decline hasn't slowed research and development efforts. "Packaging and the ability to innovate are becoming more critical," Ruff said.
Taste remains the ultimate consideration in the laboratory, determining whether a product will be a flash in the pan or a potential long-term hit.
"People want the convenience of restaurant food, but they want it with no compromise in taste," said analyst John McMillin, who follows the food industry for Prudential Securities.
But Kraft is increasingly catering to consumers willing to pay a premium for greater convenience in their kitchens or the convenience of being away from them.
"In food, convenience comes right after taste," Harris said. "If you can deliver convenience and have it taste good, you're all set."
Copyright 2018 The Associated Press. All rights reserved. This material may not be published, broadcast, rewritten or redistributed. We strive to uphold our values for every story published.