New York — In this fashion-fickle society, there is one label that is gaining popularity and keeping it: machine washable.
Busy women are fueling the craze for easy-care clothes that can be worn all day and for a variety of activities and then go straight into the washing machine.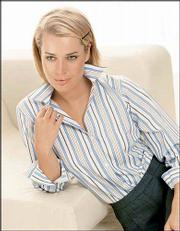 "Our customer is time-pressed, as is any modern American woman," says Debbie Martin, a product development executive at Liz Claiborne Casual who wants clothes that bridge the gap between stylish and practical. "If two products look almost identical, she will choose the one that offers easy care."
Demand isn't the only factor at work; technology deserves its due in the fusion of fashion and function.
Until recently, "wash-and-wear" used to be the kiss of death for styles that wanted to be taken seriously. Advancements in fabric technology, however, allow a repellent such as Teflon the coating on your pots and pans to protect garments from staining, and preshrinking and wrinkle-resistant processes allow for gentler trips through the wash cycle.
For this fall's expanded "Carefree" collection, Liz Claiborne will offer stain-free garments in a bi-stretch fabric that blends polyester, rayon and Spandex; a polyester microfiber that mimics the look of silk; and cotton twill. Cotton button-down shirts get the non-iron treatment "and look like you sent them out to a professional laundry," according to Martin. They'll even stay wrinkle-free after being tucked into a waistband all day, she says.
Wrinkle-free cotton and linen garments, which were introduced a few years ago, have been a hit with both retail buyers and clothing shoppers from the start, adds Trish DiPette, vice president of marketing for the Liz Claiborne apparel brand.
The company pledges that the size and shape of garments will remain intact for at least 20 trips through the washing machine and dryer.
Hanes added a trademarked ComfortSoft finish to many of its T-shirts, sweatshirts and shorts to prevent them from developing a hard, almost bald feeling after several washes. The manufacturer also developed a process that compacts fabrics to help control shrinkage, according to Katy O'Kennedy, creative brand manager for Hanes.
At some point, the company hopes to add the DuPont Teflon coating already used in Hanes Her Way StayClean canvas shoes to its clothes, O'Kennedy adds.
The stain-resistant (not stain-proof) coating on the shoes repels liquid and decreases the moisture absorption.
"Something like tea will stain," says Greg Ford, general manager for Hanes Footwear, "but it will mostly come out in the wash cycle (in the washing machine), probably because of the reduced absorption."
For now, the StayClean shoes are limited to casual styles but they're not all plain white; plaids are among the fashion touches.
Linen garments are a staple in many summer wardrobes but are rarely a favorite because they need to be dry-cleaned after almost every wearing because they wrinkle easily and show stains.
"Linen has a reputation as being high maintenance," agrees Pendleton spokeswoman Linda Parker. "Our washable version allows for less fuss."
Copyright 2018 The Associated Press. All rights reserved. This material may not be published, broadcast, rewritten or redistributed. We strive to uphold our values for every story published.