Los Angeles — The Gingersnaps don't kick as high as they once did. Their energy level dips after 30 minutes or so. But their gams are still shapely, their formations are still tight, and their enthusiasm is still strong for doing what they love dancing.
Formed in 1982, the Gingersnaps are a chorus line of about a dozen women many former Broadway showgirls who practice two or three times a week and perform at events throughout the Los Angeles area: last month at the Elks Club in Glendale, this month in Burbank. Although some confess to being in their 80s, members of the Gingersnaps refuse to reveal their actual ages.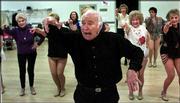 "I can't tell you how old I am because our director would kill me," said Ruth Wilson of Los Angeles. Later, as if leaking top-secret information, she quietly admits to having been born in the early 1920s. "He says we're not supposed to get applause because of our age, but because of our talent."
The Gingersnaps, who include former opera performers, vaudevillians and at least one ballerina, are directed by founder and taskmaster Kendall Capps, a copyright attorney and a senior himself.
"Sometimes I feel like a lion tamer when I'm up there with the girls," joked Capps, who was born into a theatrical family and was dancing on stage by age 8. "But I think this group is the best of its kind anywhere. And I should know. I've seen all the good chorus lines."
Capps choreographs intricate routines that can last as long as 10 minutes.
"Kendall's routines are difficult and unique," said Gloria Larson, who joined the Gingersnaps nearly 20 years ago. "Triple steps, heel drops, everything, oh boy. But they are so much fun."
At the end of a routine, most of the dancers are exhausted.
"We all get pretty tired, but we keep going," Larson said.
Twenty years strong
The origin of the Gingersnaps could be traced to a persistent woman who worked at the Jocelyn Senior Center in Burbank two decades ago.
"I was volunteering there and this woman, Elsabe Slabin, had heard I had a dancing background and thought it would be a good idea to start a chorus line at Jocelyn," Capps said.
Initially, Capps was not interested. A few weeks later, Slabin told him he looked as though he needed some exercise.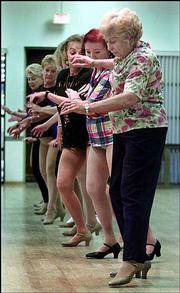 "She was right," said Capps. "So I decided to give it a try."
Within months, the Gingersnaps were born, with the dancers choosing the troupe's name.
Wilson is the only original member of the group still dancing.
"I'll dance till I fall apart," she said. "I'm going to keep going. I feel young when I dance."
Some things don't change, she said. Whether you're 18 or 80, men are still attracted to women who dance, especially women dancing in high heels and colorful costumes that show off their legs.
"Sometimes we get older men coming on to us," said Wilson, who's been a widow for 25 years. "That still happens."
Close-knit, young at heart
Dancing keeps them young, members say.
"I think it proves if you keep going on dancing, you'll keep going on living," said Joanne Drager of Los Angeles. Like most Gingersnaps, Drager danced professionally.
Born in England, she traveled throughout Europe as a member of the Cimarro Ballet Company based in Spain before coming to America, marrying and raising four children.
Although she taught dance at private schools in the San Fernando Valley section of Los Angeles, she thought her performance career was over until she heard of the Gingersnaps. "I went to see them dance and thought, 'Gee, they're good,' " Drager said. "I joined them for something to do and to continue my dancing."
The Gingersnaps are a close-knit group in which members have developed tight bonds.
"We are a family," she said. "We share good times, bad times."
Larson has had two hip replacements and is still dancing.
"My doctor told me it's the best thing in the world for me," said Larson, who performed with the Burbank Civic Light Opera for 35 years. "It shows you what you can do if you want it bad enough."
Copyright 2018 The Lawrence Journal-World. All rights reserved. This material may not be published, broadcast, rewritten or redistributed. We strive to uphold our values for every story published.