Chicago — St. Louis pitcher Darryl Kile was found dead in the team hotel Saturday, apparently of natural causes, police said.
Kile was found in his bed, said commanding officer Michael Chasen. There were no signs of forced entry and no signs of foul play.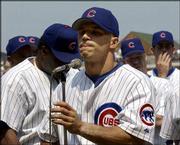 "It appears he died in his bed, in his sleep," Chasen said.
Chasen said about two hours before game time, Cardinals players realized Kile was not at Wrigley Field and called the hotel to ask that he be checked on. Workers at the Westin Hotel had to force their way into Kile's 11th-floor room because of the safety latch on the door.
Dr. Jim Loomis, the Cardinals' assistant team physician, said the 6-foot-5 Kile showed no health problems during a routine physical in spring training and was not on medication.
Loomis said he knew of no history of heart problems for the 33-year-old pitcher. Kile's father died shortly after having a heart attack in his mid-40s in 1993.
An autopsy was planned for today.
The Cardinals' game against the Cubs on Saturday was called off.
"Our club is just totally staggered, I mean, devastated," Cardinals manager Tony La Russa said, wiping away tears. "You guys know what a pro he is."
The death was the second in the Cardinals' organization this week.
Kile pitched the Cardinals into first place in the NL Central on Tuesday night, the same night longtime broadcaster Jack Buck died at 77 after a long illness.
"This has been a very difficult week with the loss of Jack Buck and now the loss of Darryl Kile," Cardinals general manager Walt Jocketty said. "It is going to be real tough period for the Cardinals organization and the citizens of St. Louis."
La Russa said the Cardinals and Cubs would play as scheduled Sunday night, a game Kile was supposed to start.
"My deepest sympathies go out to Darryl's family, his friends and the St. Louis Cardinals ballclub. All of baseball mourns his passing," commissioner Bud Selig said.
Kile and his wife, Flynn, have 5-year-old twins, a boy and a girl, and a son who was born last August.
Many major league teams paid tribute to Kile before games on Saturday night.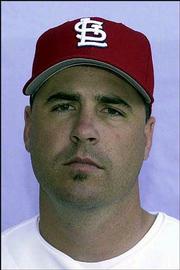 Flags were lowered at Minute Maid Park in Houston and there was a moment of silence at Veterans Stadium in Philadelphia. The Cardinals flag was at half-staff at Turner Field in Atlanta and two pictures of Kile were put on the scoreboard in Montreal.
Loomis said Kile's brother, Danny, went to dinner with the pitcher on Friday night and Kile was back in the hotel before 10 p.m. Danny later told Loomis his brother seemed to be fine.
Several stunned players walked out of the Cardinals' clubhouse without comment soon after the game was called.
The Cardinals were scheduled to have a team meeting later Saturday and Loomis said grief counselors would be available.
"I couldn't believe it and I still don't believe it," said Cubs manager Don Baylor, who managed Kile in Colorado. "DK was a very special player. He was always the perfect teammate to all the guys who played with him."
Kile was 5-4 with a 3.72 ERA in 14 games this season.
Shortly after the game was supposed to start at 2:20 p.m., La Russa came out of the dugout and walked across the field to meet with Cubs general manager Andy MacPhail and Cubs player representative Joe Girardi. Then all the Cubs came out of the dugout and stood behind Girardi.
Speaking in front of the dugout on a microphone, Girardi told the crowd there had been a "tragedy in the Cardinals' family" and asked fans for their prayers.
The game will be made up sometime in August.
Kile had won three of his last four starts, and had a solid work ethic.
"Once you take the ball, you've got a job to do," he said after his last start.
Kile, who was 16-11 with a 3.09 ERA and threw 227 1-3 innings last year, had arthroscopic surgery on his right shoulder during the offseason.
He pitched a no-hitter while with Houston in 1993 against the New York Mets. He was 133-119 in 11-plus major league seasons and known for an exceptional curveball.
Kile's best season was 2000, when he went 20-9 with a 3.91 ERA in his first year with St. Louis.
A 30th-round pick of the Astros in 1987, Kile was called up to the majors in 1991 and went 7-11. He spent his first seven major league seasons with Houston.
Kile signed with Colorado during the offseason and struggled in his two seasons with the Rockies. He led the league in losses with 17 in 1998 and was 21-30 with Colorado.
Kile was traded to St. Louis from Colorado on Nov. 16, 1999.
Deaths among active baseball players have been rare.
San Diego Padres outfielder Mike Darr was killed in a car crash in February while going to spring training.
Perhaps the most remembered deaths were those of Thurman Munson and Roberto Clemente.
Munson, the New York Yankees' captain, was killed when a plane he was piloting crashed on Aug. 2, 1979. Clemente was killed on Dec. 31, 1972, when his plane carrying relief supplies crashed on the way to Nicaragua.
Cleveland pitchers Steve Olin and Tim Crews were killed after a boating accident on March 22, 1993, during spring training at Winter Haven, Fla.
Former All-Star infielder Mike Sharperson was killed in a car accident on May 26, 1996, while playing for Triple-A Las Vegas. California Angels star Lyman Bostock was killed in a drive-by shooting in Gary, Ind., on Sept. 23, 1978.
---
Associated Press writers Nancy Armour and Maura Kelly contributed to this story.
Copyright 2018 The Associated Press. All rights reserved. This material may not be published, broadcast, rewritten or redistributed. We strive to uphold our values for every story published.