There was a small crowd of city and utility company officials gathered Thursday beneath the trees at Steven Watts' house.
Watts had invited them to his home, 1649 Edgehill Road, to spare his trees. He'd seen what Westar Energy contract foliage trimmers had done to neighbors' trees in April, and he wasn't impressed.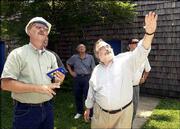 "I like to look at trees with lots of limbs and foliage but not those that have their limbs cut off," Watts said.
There to hear Watts' concerns were City Manager Mike Wildgen, Westar Energy line clearance manager Michael Horniman and Greg Hickam, president of the Oread Neighborhood Assn.
Hickam shared Watts' concern, though he said much of Westar's earlier work in the area had been OK.
"The vast majority of the work I've seen has been very good," Hickam said. "There have been some isolated circumstances when maybe they get a little more aggressive than they need to be."
Hickam said Watts' concern reached beyond his own property lines.
"The green space has a benefit larger than just the property owner," Hickam said. "It creates an area of great appeal for everyone that lives around here."
Hickam and Watts said they felt the greenery was at risk of being mauled by Westar Energy officials during routine pruning by the company.
Westar maintenance workers intended to do some routine pruning at Watts' home. Energy officials said tree branches had begun to grow around overhead electrical lines, posing a safety hazard.
Horniman said the particular circuit surrounding Watts' home had a history of outages.
"From the year 2000 to 2001, it's had over 200,000 minutes in customer outage, so it was needing to be pruned," he said.
But Horniman conceded that prior to 1998, the energy company was guilty of pruning trees incorrectly.
"In the past trees were not pruned properly, they were just cut from the power line," he said.
But now, he said, Westar uses pruning techniques set forth by the National Arborists Assn. The new techniques actually promote tree growth.
"What were doing now is called directional pruning. We remove the limbs going toward the tree, and we leave behind those growing away from the tree. We make the cuts properly so that the tree continues to survive and thrive," he said.
Watts said if the trees were trimmed more often, the cuts would be less dramatic.
"Annual trimming prevents the need to trim off branches."
Westar trims every three to four years because that schedule is more economical.
Horniman's talk of new techniques didn't persuade Watts and Hickam. They said they would search for a private company to prune the trees.
"It would cost more, but lose less. It may be a preferred option," Hickam said.
Utility officials said the neighbors had until the middle of next week to find their own tree trimmers. Otherwise, Westar officials said they would cut the trees their way.
Copyright 2018 The Lawrence Journal-World. All rights reserved. This material may not be published, broadcast, rewritten or redistributed. We strive to uphold our values for every story published.