Farmingdale, N.Y. — Getting through 18 holes on rain-soaked Bethpage Black might be easier than what lies ahead trying to catch Tiger Woods on a monster of a course that hasn't been much of a match for him at this U.S. Open.
"We're not going to give him the tournament," Brad Faxon said. "But you've seen what he's done in these situations before. It's pretty frightening."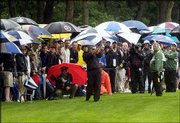 In what was shaping up to be another dominant performance in the majors, Woods sloshed his way to a 2-under-par 68 more than eight strokes better than the average score Friday to build a three-stroke lead over Padraig Harrington.
Woods is 4-0 with a 36-hole lead in the majors, and he has won his last 12 tournaments with at least a share of the lead going into the weekend.
"I'm ecstatic that I'm at the top right now, but there's a long way to go," said Woods, who was at 5-under 135. "I've still got to play hard on the weekend."
Harrington made sure of that.
The Irishman made a great par from a shaggy bank of rough on his 17th hole and matched Woods' 68 to stay within range.
They were the only two players still under par on the course, which played even longer than its 7,214 yards because of the cool air and spongy fairways.
"I don't think anybody's going to catch him," Jay Haas said, referring to Woods. "I think he's gone for good."
Sergio Garcia wasn't so sure, and suggested Woods got more than his share of breaks.
The rain got worse as the day wore on, and along with a fresh breeze, the Black Course was indeed a brute. Garcia thought there was too much water on the greens and in the fairway for the second round to continue.
"If Tiger Woods would have been out there, it would have been called," he said. "It wasn't easy this morning, but it was almost impossible this afternoon. It's tough to beat a guy when ... he gets breaks and makes putts."
Tom Meeks, the USGA's director of rules and competition, denied the young Spaniard's accusation, though he said there were times that play was close to being called.
"In our opinion, if the golf course is playable, then we can play," he said.
He also denied Woods had an advantage over the other players.
"If you're going to say certain players were under unfair conditions, I think you'd have to say they were all there under unfair conditions," Meeks said.
Woods was the only player among morning starters to shoot par or better. Five players were at par or better in the afternoon.
Garcia had a 74 and was at 142, along with Davis Love III (71), K.J. Choi of South Korea and Jeff Maggert, each with 73.
The cut was at 150, the highest at a U.S. Open since it was 10-over par at Shinnecock Hills in 1986. Among those who no longer have to face the Black were defending champion Retief Goosen and David Duval, who had a triple bogey and a double bogey on his final three holes to miss by one. It was the second straight major that Duval had the weekend off.
Woods had few complaints especially with the way he finished.
From shaggy rough behind the 17th green, he chopped it to the fringe and watched the ball trickle by the lip of the hole for a tremendous tap-in par. Then, he holed a 15-foot birdie putt on the 18th hole for his fourth straight round in the 60s at the U.S. Open.
His game is strong, and so his attitude.
"It's going to be a tough day, it's going to be a wet day, and it's going to be a long and slow one," Woods said. "You just plod along and try the best you can."
That was no small task.
Garcia was three strokes behind when he teed off in the afternoon, made double bogey on his second hole and struggled to keep his cool. At one point, he slammed his ball into the green on No. 8 after missing a short putt, and had to repair the damage.
He took no solace when it was pointed out that his 74 was 2 1/2 strokes better than the average score Friday.
"After what Tiger shot, it's not the score I wanted to shoot," Garcia said. "But the damage wasn't too bad."
Phil Mickelson also hung around, despite hitting one shot so far over the green that he had to walk down a road that leads to the exit to find it. He ended his day at 73, leaving him eight strokes behind.
"I need to get some good breaks to make a move on Tiger," Mickelson said. "We saw him at Pebble Beach a couple of years ago. We saw him at Augusta in 1997. When he gets in his mode, he's able to shoot some scores that other guys just aren't able to shoot."
Woods had a three-stroke lead after two rounds of the '97 Masters and won by 12. He led by six strokes at the halfway point of the U.S. Open two years ago and won by 15. Later that summer at St. Andrews, he had a three-stroke lead and won the British Open by eight.
Shigeki Maruyama had an ace on No. 14 and finished with a 67, the best round of a difficult day. He said he was happy to post a better score than Woods, but when asked if he could beat him, Maruyama started laughing.
"What are you talking about?" he said.
Woods is trying to become the first player since Jack Nicklaus in 1972 to win the Masters and the U.S. Open in the same year. And even though he had a tight grip on the second leg of the Grand Slam, he wasn't ready to celebrate.
"It's not like we're having the awards presentation today," he said. "I've been there before, and I'm going to go out there and do my best to win."
His play was as steady as the bone-chilling rain that fell throughout the day. At times he made it look like a pitch-and-putt.
From ankle-deep rough framing the first fairway, he slammed his pitching wedge through the ball and let the crowd's reaction tell the result. Thousands of fans took their hands off their umbrellas to clap and cheer as the ball stopped 4 feet from the cup for birdie.
A 2-iron split the middle of the next fairway, and another roar followed when his ball checked up 2 feet beneath the cup for another easy birdie.
Two holes later, the crowd was more subdued after Woods nearly reached the green on the par-5 fourth, hit a flop out of the wet, gnarly rough to 7 feet and made that for his third birdie in four holes.
Perhaps they were looking for suspense, and knew that was unlikely.
Or maybe they were simply in awe, just like his peers.
"He has the ability to be five, six, seven shots ahead and still be motivated," Billy Mayfair said after posting a 74 to finish at 143. "The chances of Tiger Woods coming back to the field isn't very good, so somebody is going to have to catch him."
Copyright 2018 The Associated Press. All rights reserved. This material may not be published, broadcast, rewritten or redistributed. We strive to uphold our values for every story published.