Bogota, Colombia — Colombia's first female defense minister said Friday she would strengthen the army and seek more military aid from the United States and other nations to fight leftist rebels.
"The Colombian conflict doesn't affect only this country, but also has causes and very profound consequences for the international community," Marta Lucia Ramirez told The Associated Press after President-elect Alvaro Uribe named her to his Cabinet.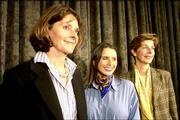 Uribe also named five other women to ministerial-level posts foreign affairs, education, environment, culture and communications meaning almost half of his 14 Cabinet members will be women.
"We Colombians highly value our women," Uribe told a TV interviewer. "Marta Lucia is an example of how hard working and competent Colombian women are."
Ramirez, currently Colombia's ambassador to France, said her main goal was modernizing the armed forces, which have battled Colombian rebels for 38 years.
"We are going to need international support," the 37-year-old Ramirez said. "In the case of some countries, it will be given in resources. In others, in expertise, in intelligence and in equipment to modernize the armed forces."
Ramirez said the Uribe administration, which takes office Aug. 7, also wanted to nearly double the number of professional soldiers from 55,000 to 100,000 while reducing the proportion of draftees.
Ramirez previously served as minister of foreign trade for President Andres Pastrana.
Uribe, elected May 26 on pledges to get tough on rebels and a right-wing paramilitary group, plans to visit Washington and the United Nations next week. Colombian officials will ask the United Nations to seek a rebel cease-fire as a precondition for peace talks.
Copyright 2018 The Associated Press. All rights reserved. This material may not be published, broadcast, rewritten or redistributed. We strive to uphold our values for every story published.