The bullet that killed the Rev. Philip Schuster during a shooting spree Monday at Conception Abbey in rural northwest Missouri also shattered a decades-old friendship between the Catholic priest and the family of a Lawrence woman.
Two brothers of Mary Ann Huslig attended Conception Seminary College on the grounds of the abbey in the 1960s, and Schuster, 85, had stayed in close touch with her family since that time.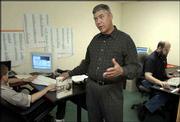 "It's so unreal when you hear about things like this. It's not supposed to touch you, yourself. It's always supposed to be, 'Aw, gee, that's a terrible story.' There has to be a reason this happened, and not to know is troublesome," said Huslig, 49.
Huslig's brother James Hart Jr. studied at the seminary for 2 1/2 years, and her brother Stephen Hart was a student there for about six months.
They were preparing to become Benedictine brothers, but both men eventually decided to leave seminary and pursue other careers.
Schuster, though, continued to trade letters with Huslig's mother, Cecilia Hart, 85, for decades.
"Momma told me last night on the phone she got a letter from Father Philip on April 23. They were always corresponding. Any time he had a chance to be close to my parents, he stopped and visited in Pratt," Huslig said.
"Momma and Steve (Hart) will miss him. He meant a lot to the family."
Schuster was killed when a 71-year-old man, Lloyd Robert Jeffress, opened fire at the Roman Catholic abbey 90 miles north of the Kansas City area.
Brother Damian Larson, 64, also was killed in the attack.
Schuster had lived at the abbey for 51 years, while Larson had been there for 32 years.
Jeffress wounded two other monks the Rev. Kenneth Reichert, 68, and the Rev. Norbert Schappler, 73 before committing suicide in an abbey chapel.
Huslig, a longtime parishioner at St. John the Evangelist Catholic Church, 1234 Ky., said she did not know any of the other victims.
Cecilia Hart and Stephen Hart will travel from Pratt to Conception to attend a memorial service for Schuster and Larson at 7 p.m. today and funerals for the men at 11 a.m. Friday.
Huslig plans to leave Lawrence early Friday to drive to Conception for the funerals.
"I'm going to go mostly because my mother asked me to join her. And because of the ties of Father Philip to our family. He was a very special friend, especially to my two brothers and my mom and dad. He was a dear man," Huslig said.
Copyright 2018 The Lawrence Journal-World. All rights reserved. This material may not be published, broadcast, rewritten or redistributed. We strive to uphold our values for every story published.