MCPHERSON — Severe storms unleashed heavy rains and damaging winds Tuesday night across sections of central Kansas, and the rain continued after dawn Wednesday in some areas.
Minor flooding was reported in a number of areas, including Wichita, where some streets were covered with water early Wednesday morning, and Harvey County, where the bridge in Centennial Park at Newton was under water. Several roads in the Hesston area were also flooded.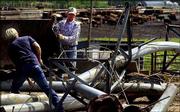 Thunderstorms could continue this morning in southeast and south central Kansas, forecasters said.
On Tuesday night, McPherson reported as much as two feet of standing water in spots, authorities said.
Funnel clouds were spotted in neighboring Ellsworth County and some power outages were reported in Wilson, Kanopolis, St. John, Haven and Shawnee County. It was not clear whether any funnels touched ground.
Cindy Chambers, a dispatcher for the city of Salina and Saline County, said a silo had collapsed in the southern part of the county. Officials did not immediately give a cause for the collapse, but the storm was known to produce strong, straight-line winds, officials said. There were no reports of injuries.
In Ellsworth County, spotters and law enforcement officials reported rotating clouds along Interstate 70 and near the town of Ellsworth. Golf-ball-size hail was reported in the county, Sheriff Tracy Ploutz said.
Funnel clouds and pea-sized hail also were reported in Lincoln County, said Deputy Bill Huff, a communications officer for the Sheriff's Department.
The storms produced scattered damage as they moved east across Kansas. Three-quarter-inch hail and downed trees were reported in Wabaunsee County.
Officials said it appeared a thunderstorm had caused a power outage that left more than 1,000 Kansas City Power & Light Co. customers in the dark late Tuesday in southeast Shawnee County.
Winds of 60 to 70 mph also were reported in southeast Lawrence, Chase County, Auburn, Reno County, Mt. Hope, Wabaunsee County, Overbrook and north of Weskan.
Copyright 2018 The Associated Press. All rights reserved. This material may not be published, broadcast, rewritten or redistributed. We strive to uphold our values for every story published.