Washington — Leading lawmakers on intelligence issues said Sunday that President Bush's proposed domestic security agency did not address flaws in the FBI and CIA and was just the start of the changes needed in response to Sept. 11-related failures.
"If the administration takes the stonewall position that every word in their plan is biblical and if you change it you're unpatriotic, I think that will be a very serious error," said Sen. Bob Graham, D-Fla., chairman of the Senate Intelligence Committee.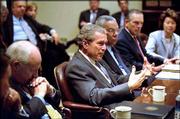 Sen. Richard Shelby, the committee's top Republican, said Congress must review carefully what Bush's plan does and does not do. For example, he said, it fails to address problems with the FBI and CIA that Congress' intelligence committees are reviewing.
"As this investigation unfolds, you are going to see more and more problems in the intelligence community," said Shelby, who appeared with Graham, D-Fla., on CBS' "Face the Nation."
"We're going to need the help of this administration to change a lot of things structurally and otherwise with these huge bureaucracies that I believe are not agile and do not, on all occasions, serve us well today," said Shelby, R-Ala.
The Department of Homeland Security proposed last week by Bush would inherit 169,000 employees and $37.4 billion from the agencies it would absorb, including the Secret Service, Coast Guard, the Lawrence Livermore National Laboratory and the immigration and customs services. It would exclude the largest intelligence operations, including the FBI, CIA and the National Security Agency.
White House chief of staff Andrew Card said Bush left the FBI out of the new Cabinet-level department in part because he did not want it to resemble an "old Soviet-era" agency and because law enforcement would not be a homeland security responsibility.
"The FBI does more than worry about terrorist attacks," Card said on ABC's "This Week." "This is a homeland security department that will secure the homeland."
Card said the department would not gather intelligence about potential terrorist attacks but would serve as a clearinghouse, analyzing information from the FBI, CIA and other sources and assessing threats.
He said the government would have had a better chance of putting terrorism intelligence together before Sept. 11 had the new agency been in place.
While the White House has said the proposal would not increase the cost of government, homeland security adviser Tom Ridge said it may cost more initially, but not over the long term.
Card said Bush would not veto legislation setting up the department if its expands the size of government.
"No, he's looking to secure the homeland, and that's the priority," Card said on ABC.
Ridge said on CNN that under Bush's proposal, in addition to the new Cabinet secretary, his current post as a White House adviser would remain.
Democrats and Republicans have pledged to act quickly on the plan. House Democratic leader Dick Gephardt and others hope the department could be established by this Sept. 11.
Sen. Joseph Lieberman, D-Conn., predicted turf battles, particularly over whether the Immigration and Naturalization Service and the Coast Guard should join the new agency.
Bush has not indicated who would head the new department. Lieberman said Congress presumes Ridge would be its secretary.
"It will be a surprise if that does not happen," Lieberman said on "Fox News Sunday."
Copyright 2018 The Associated Press. All rights reserved. This material may not be published, broadcast, rewritten or redistributed. We strive to uphold our values for every story published.