Manila, Philippines — Recently freed American hostage Gracia Burnham left the Philippines today to meet her three children in Kansas, sometimes smiling and once near tears after her yearlong ordeal at the hands of Muslim extremist kidnappers.
In comments at the airport before her departure, Burnham, her voice often cracking, delivered harsh words for her captors and praised her rescuers and supporters.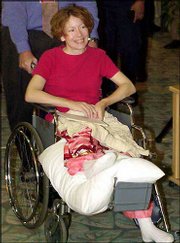 "We needed every single prayer you said for us during our ordeal in the jungle," said Burnham, 43, who was in a wheelchair with a gunshot wound to her right thigh.
Burnham was rescued Friday when Philippine soldiers ambushed her captors, the Abu Sayyaf, a group believed to have links to the al-Qaida terrorist network. Her husband, Martin, and Filipina hostage Ediborah Yap were killed in the two-hour shootout.
Burnham, who suffered a year of poor diet and frequent shoot-outs in the jungles of the southern Philippines, said her captors "are not men of honor" and should be treated as "common criminals." Without elaborating, she said that the rebels "repeatedly lied to" the couple.
"I return to the States this morning, to rejoin my children and to put my life back together," she said today. "Part of my heart will always stay with the Filipino people."
Burnham did not describe how her husband died or other details of the rescue mission.
The Burnhams, from Wichita, Kan., had been working as missionaries in the Philippines for 16 years when they were abducted on May 27 last year from a resort island where they were celebrating their 18th wedding anniversary.
About 1,000 U.S. troops are training Filipino soldiers who are battling the Abu Sayyaf.
Copyright 2018 The Associated Press. All rights reserved. This material may not be published, broadcast, rewritten or redistributed. We strive to uphold our values for every story published.