Paris — Albert Costa can be excused for an unpolished victory speech. He's a bit out of practice.
Mixing speeds and playing impeccably for stretches, Costa beat fellow Spaniard Juan Carlos Ferrero, 6-1, 6-0, 4-6, 6-3, Sunday in the French Open final for his first major championship and first title of any sort in nearly three years.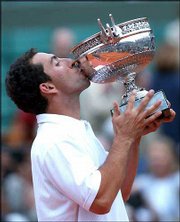 Costa had never been past the quarterfinals of a Grand Slam tournament in 25 previous tries. Only four men played in more majors before winning their first such title, topped by Goran Ivanisevic's 47 before his victory at Wimbledon in 2001.
"I was trying, trying, fighting every day," the 20th-seeded Costa said. "I was preparing to win this tournament. But I didn't believe in myself before."
As the match ended on Ferrero's fifth double fault, Costa dropped to a knee, then fell on his back with arms and legs spread, covering himself with clay.
"When I was there," Costa said, "I was thinking, 'Did I win?"'
Relishing the moment, he went into the guest box to kiss his crying parents and his fiancee, Cristina their wedding is Friday and lifted his 1-year-old twin daughters over his head. After switching to a clean shirt for the trophy presentation, Costa addressed the crowd in a rambling mix of Spanish, French and English.
"Forgive me. I'm a little nervous," Costa said. "It's much more difficult to speak than to play in the final."
Costa, who turns 27 this month, had few problems in what looked like it would be the most lopsided French Open championship ever.
He and Ferrero traded the first two games before rain halted play for 25 minutes. When they returned, Costa couldn't miss, and Ferrero was awful, looking nothing like the player who beat Andre Agassi and Marat Safin to reach his first major final.
With Ferrero out of synch he complained later about ankle, abdomen and leg injuries Costa pounced, stepping in from the baseline to whip strokes at severe angles that sent his opponent nearly into the courtside geraniums to retrieve balls.
Costa ran off 11 straight games, dropping just 16 points in the process, to claim the first two sets in all of 46 minutes. At that juncture, Costa had 13 errors to Ferrero's 26, and 13 winners to Ferrero's five.
It was "the best match of my life, for sure. I was playing unbelievable tennis," said Costa, whose 12 career titles all have come on clay. "I was a little surprised because in a final I was supposed to be nervous."
He last won a title Aug. 1, 1999, in Kitzbuhel, Austria a 65-tournament drought.
On Sunday, Costa was strong from the baseline, won the point on 81 percent of his trips to the net, and caught Ferrero off-guard with seven drop shots.
The 11th-seeded Ferrero, who lost to champion Gustavo Kuerten in the semifinals the past two years, was so out of sorts against Costa that he went to the wrong side of the court to start the third set.
But that, at least, was when Ferrero showed signs of getting back in the match. He smacked a backhand winner down the line to get to 40-30 by this time, even a game point was encouraging then unleashed an ace to win the game. Ferrero raised both arms in mock celebration, while spectators yelled and clapped rhythmically.
His vaunted forehand finally clicking (half of his winners with that stroke came in the third set), Ferrero broke Costa in the next game on the way to taking the set.
The players reverted to form in the fourth set.
It's the first time in the Open era that there have been four straight first-time Grand Slam winners, with Costa following Ivanisevic at Wimbledon, Lleyton Hewitt at the U.S. Open, and Thomas Johansson at the Australian Open.
Another sign that there is depth in men's tennis right now: The past eight majors have been won by eight different men.
Costa credits the birth of his daughters with getting him going.
"Before, tennis was 100 percent of my life, and now it is not. Now I have other things," he said. "Now I have my two little babies that I love a lot. Sometimes when I lose a match, I think, 'OK, I'm going home. I'm going to see my little babies."'
Now he can tell them Papa is a Grand Slam champion.
Copyright 2018 The Associated Press. All rights reserved. This material may not be published, broadcast, rewritten or redistributed. We strive to uphold our values for every story published.