Chicago — Chicago Police booked R. Kelly Friday on child pornography charges stemming from a videotape that authorities say shows him having sex with an underage girl.
"I'm just looking forward to my day in court," a smiling Kelly told reporters after arriving back in Chicago from Florida Friday morning on a private plane.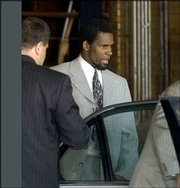 Minutes later, the Grammy winner was accompanied by defense attorney Edward Genson as he walked into the Cook County Criminal Courts Building. Police advised him of his rights before handcuffing him and transporting him to a nearby police station for booking.
The R&B; star, dressed in a tan suit, spoke only to police and appeared calm as several bystanders shouted encouragement.
He left the police station without comment about an hour later after posting a $75,000 bail bond and climbing into a silver Lexus. He was ordered to appear in court June 26 for an arraignment, the hearing in which a defendant formally enters a plea.
"We've already posted the bond. Then he's going to go home and sleep, and then we're going to prepare our case," Genson said.
The singer has denied he is the man on the tape, while Genson said this week that the woman on the tape was not younger than 18 at the time the video was made. And according to a law enforcement source, the parents of the girl claim it's not their daughter in the video.
What might further complicate the case is that, according to a law enforcement source, the girl has refused to cooperate with authorities.
Kelly, 35, who has been dogged by allegations of sexual misconduct in civil lawsuits, was indicted by a Cook County grand jury Wednesday on 21 counts of child pornography stemming from a videotape that has circulated across the country in recent months.
If convicted, Kelly could be sentenced to 15 years in prison and fined $100,000.
The singer, who lives in suburban Chicago, was arrested Wednesday at a house he rents near Davenport, Fla. He was jailed overnight before being released Thursday on $750,000 bond. The Florida judge ordered that he have no contact with minors outside of his family.
On Friday, Genson appeared angry after police arrested Kelly, whose first name is Robert, and whisked him to a police station rather than let him be processed at the main courthouse.
"I felt it was an attempt to portray Robert as someone who wasn't willing to come in, as some sort of fugitive," Genson said.
Kelly's arrest followed an investigation in which about 50 witnesses were interviewed before determining the tape showed Kelly and an underage girl, according to Chicago police and Cook County prosecutors. FBI forensics experts analyzed the tape and concluded it was authentic, they said.
Cook County State's Atty. Richard Devine said the video had been made in November 1997 or later and that the girl was born in September 1984.
Kelly is the focus of at least four lawsuits, three of which accuse him of having sex with underage girls. He has acknowledged settling two of the lawsuits, but his lawyers have said they will fight the third.
The singer is known for hits ranging from the Grammy-winning anthem "I Believe I Can Fly" to sexually charged songs such as "Bump 'n' Grind," "Feelin' on Yo Booty" and "Your Body's Callin."'
He is married to a former dancer from his touring troupe. They have a newborn son and two young daughters.
Copyright 2018 The Associated Press. All rights reserved. This material may not be published, broadcast, rewritten or redistributed. We strive to uphold our values for every story published.