All across Lawrence, everything's coming up roses. And salvias and periwinkles and zinnias.
But Mother Nature can't take all the credit for the eruption of spring blooms in the city's parks and green spaces. Keeping Lawrence beautiful is a full-time job for city parks crews, who spend their eight-hour work days tilling, digging, planting, fertilizing, pruning, mowing and weeding to cultivate the scenic landscapes.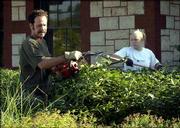 It's a year-round endeavor, but June is definitely the busiest month, said Crystal Miles, the city's horticulture supervisor.
"That's because we have so many new plants out," she said. "We're watering, the weather's changing and we're trying to clean up old stuff from winter."
It takes a lot of plants to adorn the more than 1,500 acres of parks, right-of-ways and green spaces for which city crews are responsible. This year, for instance, city employees planted 360 flats each containing between 18 and 46 plants of annuals, Miles said. That's more than 14,000 flowers a total that doesn't even include bulbs, perennials, shrubs and trees.
The money for all those plants and the equipment used to care for them comes from the city's landscaping budget, which is just under $500,000 this year, said Mark Hecker, superintendent of parks.
The work changes with the seasons. Spring flower planting is nearly complete. Busy landscaping crews have left a showy trail of pentas, purple robe, gomphrena, Russian Sage, yarrow and geraniums in their wake.
Now, they've moved on to trimming and watering new trees they plant about 450 each year, mostly during the cold winter months and weeding.
As fall approaches, they will turn their attention to turf renovations, spreading and fertilizing new grass seed and planting bulbs some 12,000 of them that arrive in mid-October. They'll also plant evergreens and mums and divide perennials.
With the onset of winter comes tree planting and leaf cleanup a big job in tree-thick Lawrence.
"In February, we start dormant pruning," Miles said. "By March, we're back into spring again."
Although city landscapers might make it look easy, embellishing an entire community isn't as simple as plunking down a few flowers.
"We start with a detailed plan," Miles said. "You have to analyze the site and know what the best conditions are for growing the plants. There are some special challenges downtown in parking lots and on Massachusetts Street."
But that's not a problem for the eight full-time landscaping staff members, who have more than just lucky green thumbs. Many also have college degrees in horticulture or forestry.
"That makes it easy to speak the same language," Miles said.
During walks or drives through town, when Lawrence residents or visitors to the city may be admiring its tailored terra firma, the employees who toil to render the artistic results often are nitpicking the fine details of their work.
"I guess I have a supervisor's eye," Miles said. "I'm always looking at what needs to be changed."
But Hecker is pleased with the efforts of the landscaping employees, who keep the town painted in the colors of the season all year long.
"Most of the people who come into town are pretty amazed," he said. "This city as a whole probably has more public landscaping than most."
Copyright 2018 The Lawrence Journal-World. All rights reserved. This material may not be published, broadcast, rewritten or redistributed. We strive to uphold our values for every story published.