New York — After last year's slam-dunk by "The Producers," there will be something different tonight at the 2002 Tony Awards: suspense good, old-fashioned nail-biting, white-knuckle time in several important categories including best play and best musical.
Despite complaints that the Broadway season now ending didn't offer a show as big at the box office or as critically acclaimed as the Mel Brooks musical, it did provide the Tonys with enough candidates for some spirited competition.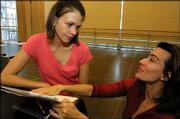 "In terms of who is going to win, no one has any sure feelings in terms of musicals or plays," says Gary Smith, the show's executive producer. "Even for revival of a musical and there are only two nominees ('Into the Woods' and 'Oklahoma!') it could go either way. And that adds a certain amount of excitement to the telecast."
"But it's a pain in the neck in other respects," laughs Elizabeth McCann, its managing producer. "We have a lot more nominees who are important that we have to accommodate. We have our hands full."
"Thoroughly Modern Millie," based on the 1967 Julie Andrews movie, and the outrageously titled "Urinetown" are the top contenders for the musical prize, with some Tony watchers predicting "Millie" will take the best-musical award, while the more edgy "Urinetown" will walk off with prizes for book and score.
Best play, too, is rated a toss-up. "Topdog/Underdog," Suzan-Lori Parks' blistering comic drama about a deadly sibling rivalry, won the Pulitzer Prize, which should have made it the front-runner. Yet Edward Albee's "The Goat," a provocative tale of an unusual relationship, won the Outer Critics, New York Drama Critics' Circle and the Drama Desk award, a prize it shared with "Metamorphoses."
"Metamorphoses," adapted by Mary Zimmerman from Ovid's ancient myths, has strong supporters, and Zimmerman could end up with the best director prize even if her play fails to win.
Searching for ratings
Increased uncertainty about the winners, however, will not automatically translate into higher ratings for the telecast from Radio City Music Hall, which begins at 7 p.m. on PBS, then switches at 8 p.m. to CBS for two more hours. Last year, "The Producers" steamrolled the competition, taking 12 of the 22 prizes. Yet its successes didn't translate into much of a ratings boost, despite the presence of the musical's two stars, Nathan Lane and Matthew Broderick, as co-hosts.
The CBS portion of the ceremony drew 8.9 million viewers last year, a slim 2 percent climb from 2000. Yet the network took heart in the show's demographics, with a nearly 32 percent increase in the advertiser-favored 18-49 age group.
Smith wanted Lane back this year or Steve Martin, who has handled similar duties for the Academy Awards.
| | | |
| --- | --- | --- |
| | | |
| | The coverage of the Tony Awards ceremony begins at 7 p.m. on PBS and then switches to CBS at 8 p.m.for two more hours.Nancy Opel, who attended Kansas University, is nominated in the Best Actress in a Musical category for her performance in "Urinetown The Musical." | |
| | | |
"The casting of a host is not secret. Sometimes, you go after people who are then not available," Smith concedes. He settled for Bernadette Peters and Gregory Hines, gold-plated theater stars if not exactly ratings-grabbers.
He will put them to good use on the show, particularly the CBS portion of the telecast. The final two hours will open, according to Smith, with a centennial salute to composer Richard Rodgers, the man behind the music for such shows as "Carousel," "South Pacific," "The King and I," "Oklahoma!" and more. Rodgers, who died in 1979, would have been 100 June 28.
The two hosts will be joined in this celebration by a diverse collection of performers, ranging from Marvin Hamlisch to Harry Connick Jr. to Michele Lee to Mos Def to Donna Murphy to John Raitt and on to Lea Salonga, who will star this fall on Broadway in a revised version of Rodgers and Hammerstein's "Flower Drum Song."
Musicals in the spotlight
The show's best segments always have been scenes from the nominated musicals, both new and old. Besides getting a plug in the CBS opening number, "Oklahoma!" will do one of the show's best dance numbers, "The Farmer and the Cowman." Its only competitor, "Into the Woods," will offer the first-act finale of the James Lapine-Stephen Sondheim musical.
"Millie" will perform "Forget About the Boy," sung by its star, Sutton Foster a likely winner for actress-musical and a defiant female chorus. "Urinetown," the sardonic story of a city where people pay to use bathroom facilities, will showcase one of its more conventional numbers, the gospel-flecked "Run, Freedom, Run!" a song not likely to upset Middle America.
Of the other best-musical nominees, "Sweet Smell of Success" will offer "Dirt," an apt description of the items likely to get into the gossip columns written by the show's power-hungry newspaperman, played by John Lithgow (another probable winner). And for a bit of 1970s nostalgia, "Mamma Mia!" will resurrect several of its ABBA tunes, most prominently "Dancing Queen," for its three to four minutes of national television exposure.
Copyright 2018 The Associated Press. All rights reserved. This material may not be published, broadcast, rewritten or redistributed. We strive to uphold our values for every story published.