Salina — Paul Moore wants to make one thing perfectly clear. He is not a war hero. Simply put, he was just doing his job.
But, the unassuming 86-year-old from Salina became part of history as a Navy photographer during World Was II when he helped produce one of the more enduring images of the 20th century the raising of the American flag on the war-torn island of Iwo Jima.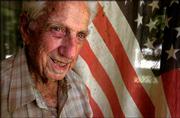 Moore continues to downplay his role.
"I just happened to be on duty," Moore said. "It was war, and we had a job to do."
On the night of Feb. 23, 1945, several rolls of film from the camera of Associated Press photographer Joe Rosenthal arrived at Allied headquarters on Guam where war film was being processed.
On one of those rolls the No. 10 frame was a picture of five U.S. Marines and a Navy hospital corpsman raising an American flag on Iwo Jima's extinct volcano, Mount Suribachi.
Hundreds of thousands of copies of that inspiring photo have been published since. The Marine Corps War Memorial in Arlington, Va., is patterned after the photo. Rosenthal won the Pulitzer Prize for photography in 1945 because of it, and a current best-selling book, "Flags of Our Fathers," explores the life and times of some GIs whose lives were directly affected by the photo.
And all because of Rosenthal's quick reflexes and Moore's steady hands.
"Like I've said before, if I'd have known how famous it was going to be, I'd have probably had a heart attack," Moore said with a grin.
"Fortunately, I didn't louse it up, but I came close."
Rosenthal, in a letter dated May 24, 1945, written to Moore's wife, Peggy, also realized how fortune smiled upon him.
"How well I know, as Paul puts it: If he'd have dunked it in hypo first, my name would be mud."
But, Moore didn't, and Rosenthal became one of the more well-known photographers of his time.
Kansas background
Moore was born in Salina on April 14, 1913. He attended kindergarten in Kansas and Nebraska before moving to California for his grade school and high school years.
Moore's father, Asa, was a photographer.
"In grammar school, I used to earn a penny apiece to print Kodak pictures for dad," Moore said.
Moore joined the Navy in October 1942, trained off the coast of California and was sent to Pearl Harbor, where he worked in an office located underneath Adm. Chester Nimitz's headquarters. Moore was sent to Guam in 1943 to work in a photo lab.
"At the start, there were seven of us, and we didn't have our own photo lab, but at the end of the war, there were 125 of us," Moore said. "We each work eight-hour shifts. It ran 24 hours a day. There was a constant flow of film running in and out."
War far from over
The battle for Iwo Jima was at the height of its fury on Feb. 23, 1945, as U.S. Marines attempted to extract 22,000 Japanese soldiers from the rocky, forsaken piece of land located 660 miles south of Tokyo. Control of the island was vital to both Americans and Japanese.
The war was still a long way from being over. It would be six months before two atomic bombs dropped on Hiroshima and Nagasaki would emphatically end the bloodbath in the Pacific.
But, in the meantime, Americans needed a morale boost. The German army had inflicted heavy casualties a month earlier in the Battle of the Bulge, and the Japanese army was resorting to suicide attacks and defensive tactics that tested the resolve of Allied soldiers.
That boost came in the form of Rosenthal's photo of American soldiers raising the flag on Mount Suribachi. However, it was actually the second flag raised on the mountain's summit that day. The first flag-raising occurred a couple of hours earlier at approximately 10:30 a.m. shortly after Marines had gained the top of the mountain after hard fighting.
The picture was taken by Marine Corps photographer Sgt. Lou Lowery, who captured the first flag-raising on film just as the enemy hurled a grenade in his direction. Lowery dodged the grenade and hurled his body over the edge of the crater and tumbled nearly 50 feet. His camera lens was shattered, but he and his film were safe.
Controversial photo
The first flag raised was deemed too small to be seen easily from the base of the mountain, so a second, larger flag was raised. Some argued led by noted journalist Jack Anderson the event was staged for the benefit of the camera. Rosenthal has explained repeatedly that it was not.
Anderson would later apologize, and he wrote a retraction.
"Nobody read that. (Rosenthal) has been fighting that for the last 50 years, and he'll probably fight it until he's in the grave," Moore said.
'One for all time'
The hoisting of the flag occurred in only four seconds. A mail plane took Rosenthal's film to Guam, where it passed through many hands before Moore developed it. Censors scrutinized it; and finally the 'pool' chief looked at each print to decide which was worth transmitting back to the United States.
AP photo editor John Bodkin reportedly picked up the print, looked at it, paused, shook his head in wonder, whistled and said, "Here's one for all time!"
"The film came in around 10 o'clock at night," Moore said. "We processed all of them, printed what we thought we wanted, the writers wrote the captions and pasted them on the photos. The commander took them to the airport, and (the planes) headed to the states at midnight."
Copyright 2018 The Lawrence Journal-World. All rights reserved. This material may not be published, broadcast, rewritten or redistributed. We strive to uphold our values for every story published.