NEW DELHI, India — Concerned about a renewal of tensions, Secretary of State Colin Powell is pressuring India and Pakistan to open a dialogue on resolving their differences over the disputed border region of Kashmir.
Powell took his message to Indian Foreign Minister Yashwant Sinha Saturday night and will make the same appeal today in a visit with President Pervez Musharraf in Pakistan. Before leaving India, he also planned to see Prime Minister Atal Bihari Vajpayee.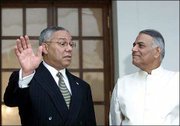 The U.S. delegation had no comment after the talks, which included an hourlong meeting between Powell and Sinha. Indian Foreign Ministry spokeswoman Nirupama Rao said India is not satisfied with the progress so far after tensions reached a high point in the spring.
She said infiltration by Islamic militants into Indian-held Kashmir "has come down only marginally" over the past six weeks, notwithstanding promises by Musharraf to curb these activities permanently.
"We can't play games of diplomatic bluff on this," she said.
The fragility of the situation was underscored by an outbreak of violence in Kashmir as Powell was arriving in the Indian capital. Seven people were killed in attacks in the Kashmir Valley on Saturday, and Pakistani guns shelled Indian positions along the cease-fire line.
Rao said political workers of the principal pro-India party in Kashmir "are murdered every day by terrorist groups."
The visit is Powell's third to the subcontinent since October, all on Kashmir-related missions. He said he does not expect the trip to yield any breakthroughs.
At Powell's first stop on an eight-nation Asian tour, the mood was somber as the government decreed three days of mourning Saturday after the death of Vice President Krishan Kant.
Powell recognizes the current period is not a proper time for a summit between the nuclear rivals. On that point, Sinha needed no convincing.
Joining Powell at a photo session before their talks, Sinha said: "India has always held that if the necessary conditions for talks are created we will have talks, but we do not think the necessary condition exists at present."
India and Pakistan have placed some 1 million troops along their frontier and a series of attacks by suspected Pakistan-based militants nearly pushed the country to a fourth war last month.
India accuses Pakistan of arming, training and funding the Islamic insurgents who have been fighting since 1989 for Indian-controlled Kashmir's independence or merger with Pakistan. Pakistan says it only provides moral and diplomatic support to the guerrillas.
Copyright 2018 The Associated Press. All rights reserved. This material may not be published, broadcast, rewritten or redistributed. We strive to uphold our values for every story published.