Time was when Greg Hanson loved nothing more than to place that little dimpled ball on a tee and whack it down the fairway.
"I was an avid golfer," Hanson said. "It was expensive, but I kept playing until my wife said that's enough of that."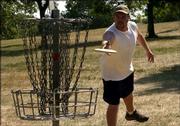 Eventually, Hanson heard about disc golf, so he went to a local discount store, bought a Frisbee and headed for Lawrence's only disc golf course in Centennial Park.
"Man, I was throwing that Frisbee and the wind was taking it all over the place," Hanson recalled with a smile. "Then I saw this guy throw a disc more than 300 feet and I was in awe."
Hanson soon learned that playing disc golf with a Frisbee is like shooting target clays with a SuperSoaker. Hanson was hooked. He plays disc golf as often as five times a week.
He wasn't playing Saturday, though, because he was tournament director for the Crazy from the Heat Open, one of four tourneys the Kaw Valley Disc Golf Club sponsors each year.
About 35 participants showed up Saturday in what may have been the most aptly named tournament ever held in Lawrence. With heat indices in the 110 range, not even mad dogs or Englishmen were out in the noonday sun. Crazy from the heat indeed.
To tell the truth, though, the heat and humidity weren't all that bad because the Centennial Park course is dotted with mature trees. In fact, only one of the holes is treeless. The remainder look like picture postcards for Arbor Day.
"At every hole you have to shoot around something," said Mark Hodges, another Lawrence resident who loves disc golf. "It pays to be more skilled than powerful. And if you don't have a putting game, don't come."
A putting game??? In disc golf???
You better believe it. No self-respecting disc golfer would be caught without a putting disc in his bag. Or, more precisely, a disc used for throwing short distances into the chains that act as a net, stop the disc and allow it to fall gently into the rack.
"The sound of that disc hitting the chain," James Bart told me, "is addictive."
Bart, who works in the body shop of a Lawrence auto dealership, began playing disc golf in Iowa, a hotbed of the sport.
"The first thing I did when I came here," Bart quipped, "was find a home. Then a disc golf course."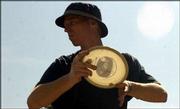 Bart is probably the typical disc golfer. He carries a six handicap and a bag with 12 discs. Serious competitors lug as many as 40. Why so many? Aerodynamics. Discs are made for every atmospheric condition and are fashioned so they'll go right or left disc golf courses have dog legs, too or straight. If you throw them correctly, that is.
A stiff wind Saturday prompted most competitors to use a heavier implement, but none weighed more than 180 grams. That's the maximum allowed under PDGA rules. Hey, if there's a PGA, why can't there be a PDGA?
For the record, Centennial Park's course measures 4,704 feet. The 18 holes average about 261 feet, depending on pin placement. All the holes have two concrete slabs for cage placement and some have three. After the first 18 holes of Saturday's tourney, Hanson changed all the pin placements for the second 18. How did he do it? He unlocked the padlock near the base, removed the cage and carried it to the alternate base.
There are, however, no blue, red, white and gold tees just one 4-by-12-foot concrete platform. Everybody throws from the same tee. Only the pin placements change.
Like real golf, disc golf isn't as easy as it looks. It takes practice. Believe me. Hodges was gracious enough to let me use his discs, even handing me the ones I should use, on the No. 15 hole near the park's shelter house. I shot a seven. That's four over par because all disc golf holes are par threes. I'm sure with practice and dumb luck I might be able to shoot a five some day.
Hodges, by the way, wasn't participating Saturday because he's been too busy lately he also trains dogs to play enough rounds to be sharp. Hodges took up disc golf in 1997 after he tore an Achilles tendon while participating in the 1996 Ironman Triathlon in Hawaii.
"I couldn't run and I couldn't cycle and I had to get walking," he said. "Playing golf is too expensive and takes too long."
One day while he was in a bicycle shop, Hodges noticed some discs and asked what they were. Now he has 10 or 12 of his own and he uses them.
"It is a little bit addictive," Hodges said. "The best thing about it is it gave me an enjoyable walk. I can come here at 6:30 in the morning before I go to work. You can play it in the dark, too."
And you can play it cheaply. There are no greens fees and most discs cost about six bucks. Moreover, you can buy used ones for about $4 apiece at Play It Again Sports.
"But with more people playing," Hanson said, "it's becoming harder and harder to find used ones."
As you might imagine, Lawrence's disc golf course is a magnet for Kansas University students. Living groups often stage tournaments there.
"Most college kids bring two or three discs," Hodges said, "and they're set."
If you haven't played the Centennial course lately, it has been altered slightly. Because of the sport's growing popularity, the first hole has been moved near the west entrance because that side of the park has a larger parking lot than the south entrance next to Bucky's Drive-In.
Kansas currently has 38 disc golf courses two are in Topeka and No. 39 isn't far off. Lawrence Parks and Recreation has another course near the Clinton Lake dam on the drawing board.
If you've never played disc golf, remember the caveat. It can be addictive.
Copyright 2018 The Lawrence Journal-World. All rights reserved. This material may not be published, broadcast, rewritten or redistributed. We strive to uphold our values for every story published.