Dry weather has damaged much of the county's corn crop beyond repair, area agriculture experts said this week.
And now area farmers are becoming increasingly worried that their fields of soybeans will be the next to fall victim to the near-drought conditions.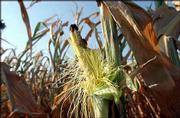 Tim Pearson, an agronomist for Ottawa Coop's South Lawrence Elevator, said many farmers in the area should expect their corn yields to drop by a third to a half from last year's totals.
"Corn is suffering quite a bit," Pearson said. "I think it will be hard for us to average any better than 70 to 80 bushels per acre."
Last year's average corn yield in Douglas County was 109 bushels per acre, according to statistics kept by the Douglas County Extension Service. What's worse, said Bill Wood, agriculture agent with the extension service, is that not even rain will help most of the corn crop at this point.
"There's some bottomland corn that still maybe has a chance, but in the upland soil there are lots of plants that are brown from top to bottom, and that means they are done," Wood said.
"There's some fields that would probably only make 10 bushels an acre and you can't afford to harvest that."
Wood said some farmers were considering simply not harvesting their crop and instead cutting it for silage or bailing it to be used for livestock feed.
That leaves many farmers counting on their soybean crop to provide for a decent fall harvest.
"I don't think that the beans are so far gone that they still don't have a chance to be somewhere near average, but we need some rain and we need it pretty quick," said Steve Wilson, owner and operator of Baldwin Feed. "Soybeans are at a pretty critical stage right now."
But both Wood and Pearson said most farmers probably should expect their bean yields to be smaller than last year's county average of 36 bushels per acre.
"I don't think they will be able to make what they did last year, but at least it might still be livable," Pearson said.
The soybean crop traditionally plays a bigger role in determining financial success or failure for Douglas County farmers because approximately 45,000 acres of soybeans are generally planted in the county, compared to about 25,000 acres of corn, Wood said.
Commodity prices also may help some farmers more than they have in the past, Wilson said. Current market prices for corn are about 45 cents per bushel higher than at this time last year and bean prices are up about 10 cents per bushel.
Plus, Wilson said, not all farmers are in the same boat when it comes to the dry weather. He said the area between Baldwin and Edgerton had received some beneficial rains during the season that other areas have not. Pearson said a similar situation also existed around the Overbrook area.
"It's been pretty crazy how different the weather conditions have been even in the 15-mile radius that we serve," Wilson said. "What it will probably work out to is that in those areas where there has been little to no rain, those guys are going to have a hard time figuring out how to make much of this year, but in the other areas, it could be about an average year."
Officially, according to the most recent Palmer Drought Index, this part of the state is not considered to be in a drought, but is classified as being "abnormally dry."
According to statistics kept by 6News weather forecaster Ross Janssen, precipitation totals for the Lawrence area are about 3.7 inches short of where they typically would be at this time of year.
Copyright 2018 The Lawrence Journal-World. All rights reserved. This material may not be published, broadcast, rewritten or redistributed. We strive to uphold our values for every story published.