Stacie McClelland was sure she'd finally found the man with whom she could share the rest of her life. He was kind, gentle and good with her two boys.
"He even offered to adopt the youngest one, the one without a father," she said.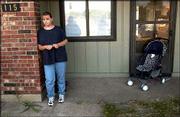 Not anymore. Her boyfriend, Damien C. Lewis, 22, stands accused of killing Pete Wallace and Wyona Chandlee, both 71, during a burglary at the couple's home at 1530 Learnard Ave.
If convicted, Lewis could face the death penalty.
"He led a double life," McClelland said. "That's all I can say. I had no idea any of this was going on."
McClelland, 21, said she had known Lewis had done some time in prison, but she was willing to give him a second chance. Lewis said he had goals. He wanted a family; he'd even talked about working with children, maybe becoming a counselor.
The first time McClelland realized something was wrong, she said, was July 17 when the police came to her apartment, 1600 Haskell Ave., to arrest Lewis for his part in an armed robbery in nearby Edgewood Park.
"He'd come in late I didn't even know he was there," she said. "And when I got up, he was at the window looking out and he said something about it looked like he was going to jail."
Call to police
After Lewis left, McClelland said she went through the laundry basket that held most of his belongings.
"I'm the one who found all those things that belonged to that elderly couple," she said. "I'm the one who called the police back and said, 'I think what you're looking for is in my apartment. Come get it.'"
Among the items, McClelland said, she found a black glove and a bank bag that appeared to be from the Fraternal Order of Eagles Lodge No. 309. Wallace was president of the lodge at the time of his death.
"At first, I thought he (Lewis) had robbed a bank," McClelland said.
She declined to talk about the other items in the laundry basket, but said police later found two guns in her apartment.
"The one they found under the couch was cocked and loaded," she said. "I can't believe he brought that thing in here. I can't believe any of this is happening to me. He's totally ruined my life."
After his arrest, Lewis sent McClelland a three-page, handwritten letter, apologizing for the trouble he'd caused and reaffirming his love for her.
"I want nothing to do with him," McClelland said. "The next and last time I see him will be in court when I testify. There's no doubt in my mind he was there (1530 Learnard Ave.) when it happened."
McClelland, in turn, wrote Lewis a letter. She shared a copy of the letter with the Journal-World.
Lone suspect
McClelland said she and those who knew Lewis doubted he acted alone.
"I believe he didn't do it by himself, and I can't say for a fact that he did the shooting," she said. "But he was there that's all that matters and I think he's taking the blame for it."
McClelland said she was now "scared to walk down the street," knowing that Lewis still has friends in town.
She said that when Lewis was paroled from Lansing Correctional Facility on April 26, he got on a bus that was supposed to take him to Hutchinson, where he was supposed to check in with his parole officer. But instead of going to Hutchinson, he got off in Lawrence and called someone he'd known in prison.
McClelland said she had met Lewis shortly after he arrived in Lawrence and, at first, refused his advances.
"We met, and he came to my door, but I wouldn't let him in," she said. "But he called me on the phone, and we talked for like two weeks before we got together."
McClelland, who lives in public housing, said Lewis did not move in with her. "He stayed here, that's true," she said. "But it wasn't a regular thing, he stayed with his friends, too."
She said Lewis once used her telephone to call the Douglas County Sheriff's Office to find out if there was a warrant for his arrest. When he hung up, he said there wasn't.
Neighbor reaction
April Jones, a friend of McClelland's who lives nearby, said that on the day of the killings she had spent the afternoon driving around Topeka with Lewis.
"He didn't seem any different than he did the week before or the month before," she said.
Lena Townsend and her four children live in the apartment building next to McClelland's building.
"I'd look out and he'd be there doing the normal-dad kinds of things with (McClelland's) kids," Townsend said. "He'd play with them, and filled the swimming pool for them and squirt them. He just seemed like a really nice guy, very respectful.
Lisa Conrad lives next door to McClelland.
"I work nights, so I didn't see him a lot," Conrad said, "but they seemed like a nice couple. I didn't have a problem with them. They were really quiet; he seemed like somebody you could trust."
Copyright 2018 The Lawrence Journal-World. All rights reserved. This material may not be published, broadcast, rewritten or redistributed. We strive to uphold our values for every story published.