Shawnee — Sleek, high-powered laptop computers will be in the hands of every teacher and child this year at Riverview School.
The brick building opening next month to more than 300 first- through fifth-grade students is the prototype elementary school in the DeSoto public school district, Supt. Marilyn Layman said Thursday.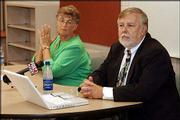 She said Riverview was the first elementary in this part of the state to be constructed with technology as a prime consideration. Use of laptop computers in the state's fastest-growing district will dramatically alter the way students learn and educators teach, she said.
"We know learning in the 21st century will demand different skills for each of us," Layman said.
The Lawrence public school district has equipped students in a few experimental classrooms in this manner. In recent years, the district has hard-wired all school buildings and bought hundreds of desktop computers. A few schools have opted for laptop laboratories.
Nothing old-fashioned
At this new school in Shawnee, laptops on the desk of each student and teacher will make obsolete computer labs, which are the norm in DeSoto and Lawrence schools.
In these classes, notetaking with pencil and paper also will become old-fashioned. At the press of a button, Riverview students will be able to copy onto their own computer whatever teachers project on "whiteboards" on the wall.
Fourth-graders and fifth-graders will be able to take their expensive machines home.
"This initiative is important," Layman said. "We truly feel we have an obligation and responsibility to students."
Eye to the future
Layman put the new school on display as part of a campaign to convince parents in the 4,000-student district there was great potential in a school built around technology.
The district's laptop initiative should be extended to all grades through renovation of existing schools and construction of new buildings, she said.
To add muscle to her pitch for high-tech classrooms, Layman invited to the school Charles Stallard, author of "The Promise of Technology in Schools" and adjunct associate professor of educational technology at George Washington University in Washington, D.C.
Stallard was with the Henrico County school district in Richmond, Va., when the decision was made to provide every student and teacher a portable computer. The district started the program last year by equipping students and staff in higher grades with Apple laptops.
The program is being expanded during the coming two years to include all of Henrico's students and staff.
Access to tools
Just as chain saws outmoded hand saws in forests, Stallard said, computers will replace textbooks in classrooms.
"Kids need access to new tools," he said. "It's absolutely the right thing to do."
He said a laptop in every hand would allow teachers to personalize curriculum plans to better meet student needs. Educational software these days is that good, he said.
It's likely students will become more motivated learners if given an opportunity to master a laptop, he said.
He said school attendance should improve and discipline problems decline. Standardized test scores climbed in the Henrico district after introduction of computer-based instruction.
"The biggest risk for Kansas and America is business as unusual," Stallard said. "We owe them (students) an equal chance on the world stage."
Opposing view
Not all parents with children in the DeSoto district are fond of the technology push.
Terry Guise, who will have two children at Riverview this year, said during Stallard's visit that evidence of the academic value of submerging students in computer-aided learning was, at best, neutral.
In addition, he said, the time was not right for DeSoto to invest heavily in technology. The district's priority should be building schools to meet enrollment growth that threatens to make class sizes too large, he said.
Areas of Shawnee that were pastures a few years ago are now housing subdivisions. The district has 1,400 children 4 years of age or younger.
"The laptop issue is not as important," Guise said.
Luxury items?
Disagreement about the district's priorities contributed to rejection in May of a $91.2 million bond issue for construction of four elementary schools, a middle school and improvements to DeSoto and Mill Valley high schools.
Some voters Guise included objected because $6.5 million for technology was in the bond issue.
"We need to back off this (laptop) initiative," said Guise, who worries a revised bond issue will fail in November.
He said a survey of district patrons supported his contention that investment in classroom computers was a luxury.
Barbara Floyd, who will enroll two children in Riverview and serve as its technology teacher, said Guise's survey ran counter to what she's heard from parents at baseball diamonds and the swimming pool.
Willingness to embrace a learning style rooted in computers is widespread, she said.
"There's excitement out there," Floyd said.
Copyright 2018 The Lawrence Journal-World. All rights reserved. This material may not be published, broadcast, rewritten or redistributed. We strive to uphold our values for every story published.