Washington — "Bet on me," Zacarias Moussaoui said a week ago, insisting to a federal judge that he would plead guilty. But after a topsy-turvy afternoon in federal court Thursday, all bets were off.
Moussaoui tripped up during questioning from the judge on the first of the charges against him, and ended up canceling his attempt to admit guilt to four counts that could bring the death penalty.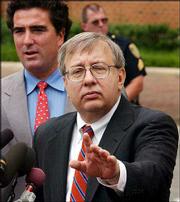 No surprise there, lawyers said.
"It would not take an expensive crystal ball to have foreseen that," said Irwin Schwartz, president of the National Association of Criminal Defense Lawyers.
The plea effort was bound to fail, "either because the man doesn't understand the process or because he's not playing with a full deck," Schwartz said.
The failed plea might strengthen arguments Moussaoui is mentally unfit to represent himself, or perhaps unfit to stand trial at all, although several lawyers said they doubted it.
"I don't think conduct that appears irrational means that someone is incompetent, but it may provide, in addition to everything else, further evidence" of mental illness, said Sean O'Shea, a former federal prosecutor.
"Everything else" includes Moussaoui's previous erratic behavior in court and a thick stack of handwritten court filings that combine a basic grasp of legal concepts with eccentric ramblings and shrill outrage at his captivity and prosecution.
Moussaoui repeatedly has accused U.S. District Judge Leonie Brinkema and his own court-appointed lawyers of being in cahoots with prosecutors.
Although the judge said the fact he tried to plead guilty could not be used against Moussaoui at trial, incriminating statements he made in open court, including a pledge of loyalty to Osama bin Laden, probably would be admissible, lawyers said.
The court-appointed lawyers remain on standby to help Moussaoui; they had argued Moussaoui was mentally unfit.
Moussaoui made what may have been a peace overture Thursday, asking the lawyers to help find a witness. But he apparently intends to go on representing himself.
Copyright 2018 The Associated Press. All rights reserved. This material may not be published, broadcast, rewritten or redistributed. We strive to uphold our values for every story published.