Lesleigh Lee has wanted to be a doctor for as long as she's watched her father treat predominately poor, black patients in Tallahassee, Fla.
"It's important that people have qualified doctors to take care of them," she said. "Sometimes people get left out."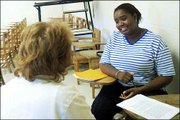 Now, Lee, a senior at Florida A&M; University, is taking advantage of a Kansas University program that encourages minority students and students from rural areas to become doctors. Both are traditionally underrepresented in medical schools.
Health Careers Pathways, which ends today, brought 60 prospective doctors to Lawrence and Kansas City, Kan., for eight weeks of preparation for medical school. The students were from high school, undergraduate and post-baccalaureate levels, as well as some entering medical school this fall.
Classes, predominately taught by KU faculty members, included Medical College Admission Test preparation, anatomy and medical school survival skills.
Since its inception in 1986, more than 90 percent of participants in Health Careers Pathways have entered medical school, said Amber Reagan-Kendrick, the program's associate director.
"We're hoping they'll go back to their communities and provide health care," Reagan-Kendrick said. "I don't think people in certain communities realize there is a need for better health-care providers that look like them."
That's the plan for Julie Nguyen, who will do post-baccalaureate study at KU next year before entering the KU School of Medicine in fall 2003. She's from Wichita, and would like to work in pediatrics.
"People in your community tend to stick together," she said. "Having a minority doctor means having somebody who can relate to you, understand your language and needs."
Lase Ajayi, a Lawrence native who is a junior at KU, doesn't want to become rich as a doctor. Ajayi, who is black, would like someday to open a free clinic for poor people.
"I wanted to be a doctor since eighth grade," she said. "Before then, I wanted to be a superhero."
Ajayi, who will enter medical school in fall 2004, said Health Careers Pathways gave her confidence.
"It brings us all together," she said. "It provides support."
Jason Bailey, a junior at Wichita State University, is planning to work for another underserved population in the state rural Kansans. He's a native of Riverton, in far southeast Kansas, and wants to return to the region as a pulmonologist, a doctor who specializes in lung care.
"That's where my family is," he said. "I know they need a lot of help in small towns. Pulmonologists, there's not a lot of them out there."
Now that the program is ending, Bailey plans to spend the next few weeks on his next challenge taking the MCAT Aug. 17.
"Everybody's stressed out about it," he said.
Copyright 2018 The Lawrence Journal-World. All rights reserved. This material may not be published, broadcast, rewritten or redistributed. We strive to uphold our values for every story published.